Legal Management Magazine
Legal Management reports on topics within ALA's five knowledge areas: Legal Industry/Business Management; Human Resources Management; Financial Management; Communications and Organizational Management; and Operations Management.
November/December: On the Cover

Navigating the New Compliance and Ethics Landscape

Due to globalization, advancements in technology and other factors, attorneys today have arguably more ethics and compliance considerations to consider than in the past decades.
Yet, law firms' focus on having attorneys obtain and support business can take precedence over keeping up with ethical and regulatory changes. Law firms have good reason, however, to try to ensure attorneys and staff members are prepared to handle any potential ethics and compliance that may arise — because, even if accidental, they can put an attorney or firm at risk for professional negligence or malpractice claims, being reprimanded or receiving other sanctions. Read more.
Features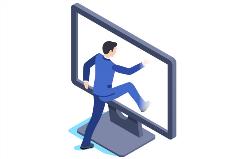 A Peek at Client Portals

Your attorneys' cellphones are chirping off the hook with notifications. Clients are calling, texting and emailing looking for answers now. But attorneys may be in court all day or otherwise unable to divide their attention. How do they balance the needs and expectations of the client, focus on the task at hand and keep their sanity? To reduce the continuous stream of messages and phone tag, many law firms have adopted client portals to streamline client communication. Client portals are a secure, web-based gateway to case information such as digital files, calendars and invoices. Read more.
Grooming the Next Generation

Your role is critical to ensuring the day-to-day operations of the firm run smoothly. As your colleagues — or perhaps yourself — near retirement age, there is another essential function you should add to your list: grooming the next generation of legal managers. Even if retirement is still several years off for you, the time to start mentoring is now. But if this sounds a bit intimidating or not something you're particularly excited about doing, we've got some tips on how to work it into your daily work priorities to ensure a successful transition to your successor. Read more.
Columns
Big Ideas
A Message from Executive Director Oliver Yandle, JD, CAE: Preparing Your Firm for the Future
BP Perspective
How You Can Help Minimize Write-Offs and Maximize Revenues
Earn CE Credit
Members and nonmembers can read the article, then log in to take a test (members pay $49; nonmembers pay $69). If you pass with at least 70 percent, you will earn one CE credit hour. The goal is to help CLMs get the credits they need for recertification, but it will also count toward SHRM, HRCI or CPE credit.