What Is the CLM Program?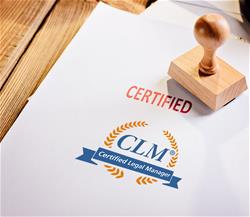 The Association of Legal Administrators (ALA) is the credentialing body of the Certified Legal Manager (CLM)® Program. ALA is the premier professional association connecting leaders and managers within the legal industry. We provide extensive professional development, collaborative peer communities, strategic operational solutions, and business partner connections empowering our members to lead the business of law.
As the legal services industry becomes more diverse and competitive, the need for capable managers has never been greater. Whether you have worked your way up through the ranks of legal administration or crossed over from another industry, you know that every legal management professional must demonstrate a high level of expertise and ability to be an effective manager.
ALA offers the opportunity for individuals to add to their credentials by becoming a Certified Legal Manager (CLM)®. The certification program allows a qualified legal management professional to demonstrate, through an examination process, a mastery of the core areas of knowledge identified as essential to the effective performance of a principal administrator.
Regardless of what career stage you're in, becoming certified adds a valuable dimension to your professional development. This achievement can help to instill greater confidence in your abilities and identifies you as an experienced legal manager who understands the unique issues of managing a law firm or legal department.
What Is Certification?
Certification is defined as a credentialing process by which a profession grants recognition to an individual who meets certain predetermined qualifications specified by that profession
Why Certification?
ALA's voluntary Certified Legal Manager (CLM)® program was developed to provide legal management professionals with an opportunity to demonstrate a mastery of the core competencies of knowledge identified as essential to the effective performance of a principal administrator. CLMs are recognized as administrators who have met the work experience requirement, displayed a commitment to continuing education, abide by ALA's Code of Ethics and passed a comprehensive examination.
Job requirements for principal administrators working in different environments are not exactly the same. The content of the CLM exam is targeted to an individual who is expected to have day-to-day, hands-on involvement in all areas of legal administration.
Additionally, passing the CLM examination demonstrates that an individual has the management skills and the depth and breadth of knowledge that would enable them to visit any 30- to 50-attorney law office, review practices and procedures, and be conversant about, and offer advice, in all areas of legal administration without relying on others.
What Does Competency Mean?
ALA conducts periodic, competency-based education job and needs analysis. Through this extensive research, ALA investigated the job of a legal administrator and identified competencies (knowledge, skills and abilities) critical to successfully perform the administrator's job. These analyses are the guidelines used in the development of ALA's educational and certification programs.
---
Did You Know?
The exam is created by ALA's Certification Committee. Learn more about their important volunteer work here.