2023 Compensation and Benefits Survey
Participation Now Open!
Participation for the 2023 Compensation and Benefits Survey and the 2023 Large Firm Key Staff* Compensation Survey is now open. Your firm's participation is crucial to the success of the final report. Participation closes June 12!
Click the button below to create your account and/or participate in the survey.
*ALA classifies a firm with 100 attorneys or more as a large firm. The Large Firm Key Staff Compensation survey breaks down compensation for key staff positions such as Director of Finance, Executive Director, Director of HR, C-Suite Positions and more.
---
Don't forget to pre-order your 2023 reports. These will be available in September: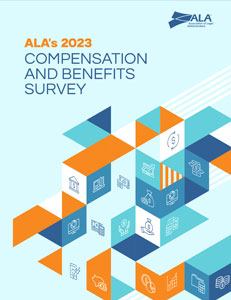 2023 Compensation and Benefits Survey:
Order by credit card.
Order by check.
Member participant: $349
Member nonparticipant: $459
Nonmember participant: $639
Nonmember nonparticipant: $869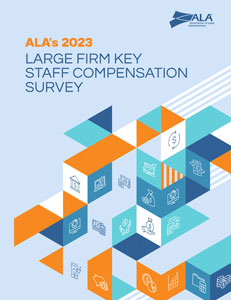 2023 Large Firm Key Staff Compensation Survey Bundle:
Order by credit card.
Order by check.
Member participant: $579
Member nonparticipant: $689
Nonmember participant: $809
Nonmember nonparticipant: $1,039
2022 Reports Are Still Available for Purchase
2022 Compensation and Benefits Survey:
Order by credit card.
Order by check.
Member participant: $349
Member nonparticipant: $459
Nonmember participant: $639
Nonmember nonparticipant: $869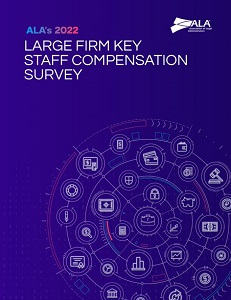 2022 Large Firm Key Staff Compensation Survey Bundle:
Order by credit card.
Order by check.
Member participant: $579
Member nonparticipant: $689
Nonmember participant: $809
Nonmember nonparticipant: $1,039