White Papers
ALA will produce several white papers in which we deliver knowledge and insights in critical areas within the business of law. These white papers will identify hot topics that are currently trending in the industry, provide detailed information and analysis of the topics' impact, and outline actionable solutions.
The goal is to have four to five white papers covering topics that fall within our knowledge areas of Financial Management, Human Resources Management, Legal Industry/Business Management, Communication and Organizational Management, and Operations Management.
The following white papers are available for download.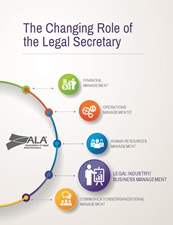 "The Changing Role of the Legal Secretary"
– October 2018
Looking for additional resources on this topic? ALA has articles, webinars, podcasts and education sessions to help. Click
here
to learn more.