SALI Alliance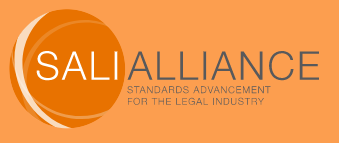 The Standards Advancement for the Legal Industry (SALI) Alliance is a not-for-profit organization comprised of legal industry professionals from legal operations, law firms and solution providers with the goal of developing open, practical industry standards for efficient and innovative legal services.
SALI officially launched on April 11 in conjunction with LMA's Annual Conference in New Orleans. An integrated payment system has been brought online and it is now actively taking memberships. It has received endorsements from the Association of Corporate Counsel, GlaxoSmithKline, Microsoft, Shell, Citi, Allen Matkins, Baker Donelson, Greenberg Traurig, Honigman, Perkins Coie, Intapp, Prosperoware and Foundation Software Group. SALI Alliance is a recently created independent, not-for-profit member organization focused on facilitating a more transparent and efficient market for the buying, selling and delivery of legal services.
SALI Alliance is all-inclusive for firms, clients, organizations and industry technology and service providers. SALI was created to ensure all stakeholders in the industry have a voice to shape the most useful and relevant standards for fostering transparency. The Legal Marketing Association (LMA) and the Association of Legal Administrators (ALA) are the two founding organizations of the SALI Alliance, and the founding Board consists of Toby Brown; Oliver P. Yandle, JD, CAE; and Betsi Roach, MIM, CAE.
ALA has partnered with the Legal Marketing Association (LMA) to create the SALI Alliance (Standards Advancement for the Legal Industry). This is a complementary effort to ALA's UPBMS and focuses on developing new standards to address the needs of more sophisticated buyers (clients) and service providers. The goal is to develop consistent definitions of the types of work lawyers do (dispute resolution, transactional services, etc.). SALI Alliance is initially building a standard for describing legal matters to foster innovation and provide consistency for buyers and sellers of legal services.
Any company or organization can become a member at sali.org. Members can participate in defining the legal services market through regular SALI standard committee meetings. Membership tiers are offered for clients, law firms, solution providers and other industry stakeholders.
SALI promotes an inclusive industry neutral standard for the progress of legal industry transparency, efficiency and innovation. It was founded by the Legal Marketing Association (LMA) and the Association of Legal Administrators (ALA). Its mission is to create a common language for all participants for the delivery of modern legal services.
Twitter: @SALIalliance