Event Exhibits and Sponsorships
ALA is committed to advancing the business of law — today and in the future. That's why strategy, innovation, profitability and leadership are the focus of every product and service we offer.
Face-to-face tradeshow marketing with exhibit and sponsorship opportunities are still considered the best way to reach and engage with a large audience. Check out the opportunities we have at our in-person events that will help you build your brand, launch your products and remain at top of mind with your target market.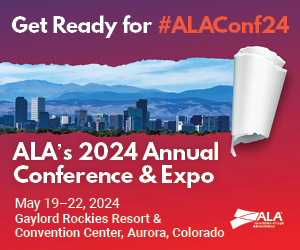 ALA's Annual Conference & Expo is the premier in-person opportunity to engage with ALA members. In 2023, more than 1,000 legal management professionals attended the event. Here you'll connect with the right audience as you build lasting business relationships. You'll also:
Generate quality sales leads and grow revenue.
Showcase your solutions and subject matter expertise.
Build and reinforce brand recognition.
Outmatch your competition.
Contact ALA Business Development Manager Sue Graf at 704-975-1931 to learn more about exhibit and sponsorship opportunities.
Other Events
The Chapter Leadership Institute, commonly referred to as CLI, takes place every July. It brings together ALA's current and new chapter officers, individuals interested in becoming a chapter officer, and members of ALA's Board of Directors and Chapter Resource Team. Sponsors love the interaction they receive at this event with senior level ALA volunteers. Sponsors are always close to the action and welcome to join attendees in the general and breakout sessions. It's a great opportunity to build strong and long-lasting business relationships.
ALA's Intellectual Property Conference for Legal Management Professionals is the premier IP-focused forum for administrators working in a legal practice setting. If you have services and solutions that are specific to intellectual property (IP) firms, this is the event for you. This conference gathers IP-focused leaders to hear about the latest trends within this specific legal area. This event offers lots of engagement opportunities to interact with just the IP-focused professionals you are looking for.
This new launch event is geared toward senior level legal management professionals with 10-plus years of experience. The event format will include a limited number of experts who will present visionary concepts and trends followed by facilitated conversations where practical applications and peer sharing occur. In addition, exhibitors and sponsors delivering products or services relative to the needs of the targeted audience, senior executives, will be limited and by invitation only. Additional marketing opportunities will be available to allow non-sponsoring business partners to participate at as well.
October 13–14, 2023
Omni Park House
Boston, Massachusetts
Get on the radar of legal administrators who are new to the field: This conference specifically focuses on those within the first five years of their career. The comprehensive 2022 program focused on the core competencies and best practices of legal management, broken out by four distinct modules:
Legal Trends and Operations Management
Financial Management
Human Resources Management
Leadership
Don't miss this opportunity to build long-lasting relationships with the next superstars of legal management.
Ask how you can make an impression with one of these highly engaged groups of ALA members, contact [email protected].