About the Association of Legal Administrators
ALA is the premier professional association connecting leaders and managers within the legal industry. We provide extensive professional development, collaborative peer communities, strategic operational solutions, and business partner connections empowering our members to lead the business of law. ALA is a non-profit 501(c)(6) organization.
Founded in 1971, ALA provides support to professionals involved in the management of law firms, corporate legal departments and government legal agencies.
ALA's Networking, Knowledge and Resources focus on delivering innovative opportunities, on-demand education and tools, and expert guidance.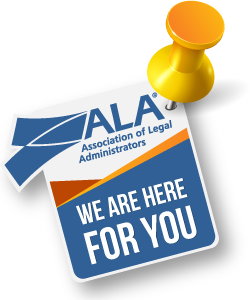 Networking
ALA Online Community
Annual Conference & Expo
Specialty conferences on cutting-edge topics

Virtual Member Meetups
Knowledge
E-learning and web-based courses
Certified Legal Manager (CLM)® program
Annual Compensation and Benefits Survey
Legal Management digital magazine
Legal Management Talk podcasts
BOLD Bites weekly e-newsletter
Monthly specialty and general topic webinars
Solutions Series complimentary webcasts
Resources
Career Center and Job Bank
Online Member Directory and Find a Chapter
Mobile apps for ALA events and education
Value in Partnership (VIP)SM program, with exclusive discounts for members through our business partners
Legal Management annual print edition
Job Description Toolkit
White papers focused on critical areas in the business of law
Legal Management Resource Hub organized by functional area
BOLD Bites— ALA's Weekly Member Newsletter
BOLD stands for "Business of Law Discussions," a source for quick industry thought leadership and more.

Legal Management Magazine
Legal Management reports on topics within ALA's five knowledge areas:
Legal Industry/Business Management
Human Resources Management
Financial Management
Communications and Organizational Management
Operations Management.
Certified Legal Manager (CLM)® Certification Program
ALA's CLM credential demonstrates a mastery of the 65 competencies needed to excel as a legal manager. It earns you the recognition you deserve. ALA is the only place you can earn your CLM designation! More information and application materials.