Diversity and Inclusion
Diversity, Equity, Inclusion and Accessibility Committee works to educate legal industry leaders about why diversity is important and how we can work to bring diversity and inclusion to the legal workplace.
The ALA Diversity Initiative aims to increase awareness of and sensitivity to the differences among our workforce and to advance the concept of inclusiveness and acceptance. ALA's goal is to increase diversity and inclusion in the Association, in the legal management community and in all legal service organizations. To that end, the mission of the Diversity, Equity, Inclusion and Accessibility Committee is to provide each ALA member with the tools and resources required to be a leader in meeting ALA's goal. The educational programming, publications, speakers and monthly tips are all cataloged herein. First, begin by reading this inspirational overview from the Chair of the Diversity, Equity, Inclusion and Accessibility Committee, which explains how we are here to help each member manage the many changes occurring throughout the legal profession.
"Diversity is being invited to the party.

Inclusion is being asked to dance."
— Vernā Myers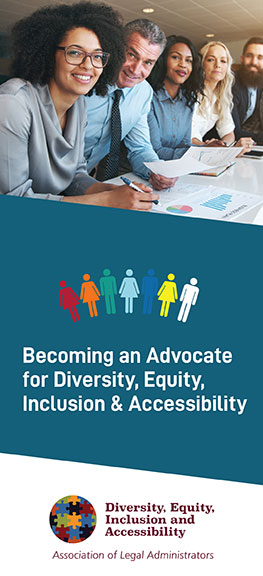 Are you just beginning, trying to gather ideas and make a business case for diversity?
Advancing diversity and inclusion in your organization is more than the right thing to do: it's critical to the success of your business. This new brochure cites facts and studies that demonstrate why your company can't afford not to consider Becoming an Advocate for Diversity, Equity, Inclusion & Accessibility. Here is a printable version of the brochure.