Welcome to ALA Membership
On behalf of the entire Board and staff, welcome to the Association of Legal Administrators (ALA).
We are pleased to count you as a member of this vibrant and forward-looking organization.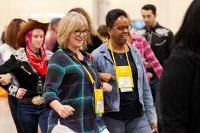 Founded in 1971 by individuals managing legal organizations, we focus on serving the legal management community through our mission:
ALA is the premier professional association connecting leaders and managers within the legal industry. We provide extensive professional development, collaborative peer communities, strategic operational solutions, and business partner connections empowering our members to lead the business of law.
The following are first steps to engaging and suggestions for ways to begin making the most of your membership!

First Steps: Profile Tabs
Log in to the ALA website using the credentials you established when you joined online. Joined by mail or don't remember? Try to retrieve your credentials online or contact

[email protected]

for assistance.
Review your profile. When the LOGIN button reads MY ACCOUNT, you are logged in. Click back on MY ACCOUNT and select "Account Details" to review your profile, moving through the various tabs to verify all information is correct.
Find your Member Items. On the Member Items tab, find your digital ID card with member number and your personalized Membership Certificate, which can be printed and framed as many times as you wish. You will also find a digital member badge for your email signature.
Discover benefits in your profile pages. The My Media tab shows digital items you may have downloaded. My Directories is where you'll find your Member Directory, Volunteer Profile, Peer Consulting Directory, LegalMarketplace and ALA Staff Directory.
Share Your Expertise. Let us know the areas where you shine and, when you're ready, hone leadership skills by volunteering.
Next: Explore the Website
Become an ALA Membership Ambassador Program Mentee.
Have you been an ALA member for less than two years? Would you find it helpful to have a more experienced member share advice, help you find resources and support you in developing new ALA connections? If so, consider participating in the ALA Membership Ambassador Program as a Mentee. Each Mentee is assigned to an Ambassador who will help welcome them to ALA and support their relationships with the Association so they can successfully utilize the resources they need and expect.
Mentee participants may:
Connect with their assigned Ambassador by mutually agreed-upon methods and frequency: telephone, email, online or in person.
Gain knowledge of how to identify and locate needed resources and/or obtain answers about ALA products and services.
Participate in Ambassador-Mentee meetups at ALA events.
Make friends, have fun and build engagement through member-to-member contact.
Mentees commit to participate in the program for one year. If you're interested, please complete this response form. Upon receipt of the completed response form, your assigned Ambassador will contact you to begin your Ambassador Program journey.
In the interim, if you have any questions or concerns, please email [email protected] or call 847-267-1585.

Easy Ways to Engage
Browse the Solutions Series library of complimentary webcasts from knowledge experts and business partners offering solutions you can implement to enhance your office productivity, boost efficiency or even drive profits.

Listen to ALA's complimentary, convenient podcasts on demand, featuring respected legal management thought leaders. Gain a new insight or spark an innovative idea!
Check out complimentary, prior year on-demand Conference Recordings, available when you are.

COMMUNITY, REFERENCE LIBRARY AND SAMPLES
Search the ALA Online Community (login required) for knowledge resources, discussions and samples around specific topics of interest. Learn more here.
Network with colleagues to benchmark, share best practices and examples. All new members receive an initial digest notification for the Online Community's General Topics group, delivered to your email box. Login to browse the community and sign up for other discussion topics.
The Job Description Toolkit features 100+ pages with 45 job description samples, helpful tips and guidelines. A $399 value, FREE to ALA members! (Log in to the website to access it.)
PUBLICATIONS AND CURATED CONTENT
Read recommended articles and subscribe to Ahead of the Curve for curated articles of top interest in legal management today.
Browse the Legal Management archives for articles related to specific topics of interest. These archives contain a treasure trove of material around the latest industry practices.
For insights on hot topics trending in legal management, read up on the latest titles in ALA's white paper library and find complimentary surveys and trend reports on the ALA Research webpage.
Looking for tools and resources to help you increase diversity and inclusion in the workplace? Find a Scorecard, Toolkit, samples, links and other resources to support your efforts.
Need career or hiring tips? Find it here, along with more free resources.