Diversity, Equity, Inclusion and Accessibility Spotlight
ALA Celebrates Hispanic Heritage Month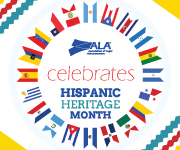 September 15 to October 15 marks Hispanic Heritage Month, which recognizes the history, culture and achievements of Americans whose ancestors came from Spain, Latin America and the Caribbean. During this month, several Latin American countries celebrate their independence days — including Costa Rica, El Salvador, Guatemala, Honduras and Nicaragua on September 15, Mexico on September 16, and Chile on September 18.

"Latino history is American history," President Joe Biden said in his proclamation announcing the month. "It is a story of hard work, family, faith, pride and possibility, and it is proof that there is nothing we cannot do when we do it together." ALA is proud to celebrate our Hispanic members and the important work they do in the legal management community. Click here for more info on Hispanic Heritage Month and the events and exhibits you can check out to commemorate it.

Learn More About Select Quarterly Observances
Each quarter, we'll highlight several observances and explain the significance of each. Additionally, we'll spotlight an article related to one of these observances. It's a great opportunity to learn more about the meaning behind the observances you know — or don't know.
---
Plan Ahead with ALA's Annual Heritage and Cultural Celebration Calendar
We've put together a new resource for you as you plan your DEIA initiatives: An annual Heritage and Cultural Celebration Calendar. It lists some widely recognized awareness months and day(s) for diversity-related specific groups, cultures and/or causes, including holidays and national events. We hope it will help you start (and continue) the conversation on these vital topics.
We suggest sharing this guide with others, beyond the legal management team, within your legal organization to help coordinate DEIA-focused events and educational programming throughout the year. Consider sharing our Heritage and Cultural Celebration Calendar with the following teams in your legal organization:
Marketing Department to plan social media posts and/or to add to the DEIA-focused page on your firm's website.
HR Department to increase employee morale programming and/or for inclusion in communication to all employees explaining when offices are closed for the upcoming year.
IT Department so they can add on your firm's intranet.
Chief Diversity Officer or DEIA Committee so they can plan related events and programming for the year.
An additional resource you might find helpful is this 2023-2024 interfaith calendar that serves as a useful guide to honor special practices and important observances in your legal departments and law firms.
---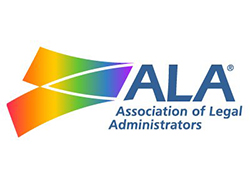 PRIDE in Legal: How Firms Can Support The LGBTQ+ Community
Barack Obama said, "Every single American — gay, straight, lesbian, bisexual, transgender —deserves to be treated equally in the eyes of the law and in the eyes of our society. It's a pretty simple proposition."

Pride Month (June) is an annual celebration that serves as a reminder of the ongoing struggle for LGBTQ+ rights and the progress that has been made since the Stonewall riots in 1969. This month is an opportunity to honor the courageous individuals who have fought for their rights and to recognize the significant advancements that have been made in the fight for equality.
If you look back at Stonewall, the riots were a truly tragic event because they were a result of the systemic discrimination and oppression that the LGBTQ+ community had faced for decades. However, the impact of the riots was significant in terms of raising awareness and bringing attention to the issues faced by the LGBTQ+ community. The riots inspired a new generation of activists who organized and demanded equality and civil rights. They also helped to spark a movement that eventually led to the decriminalization of homosexuality and the legalization of same-sex marriage in the United States. The impact of Stonewall continues to be felt today.
I'd like to share my personal life story to give some insight into one of the many struggles that LGBTQ+ individuals experience.
I grew up in a small rural town in Northwest Tennessee. My family is very religious (Southern Baptist), and I was raised to believe certain things — one of which is that being gay is an abomination. As I grew up, I started to notice I was attracted to guys. I remember having such an internal battle with myself over those feelings — to the point where I would be on my knees in tears praying to God to make me not feel the way I did because I knew if my family found out, it would be detrimental for me. I also grew up with only girls as friends as that's all that was in the neighborhood, Therefore, I had picked up several feminine tendencies. I was getting made fun of at school to the point people would ask me if I was a girl. I was also being made fun of for my name (everyone called me LG — my first and middle initials), being called "little girl" and also my full initials LGW, "little gay wad." I forced myself to date girls through school in an effort to try and stop the bullying and to do what I thought was the "right" thing by God and my family.
It wasn't until I went off to college that I realized I could no longer live my life to please my family and that I was the way I was, and that God surely wasn't going to punish me for being who he made me to be. I then started to be my true self, but only in secret. I was terrified of telling any of my friends or family and worried they would disown me if they knew. I started dating a guy; neither of us were "out" yet. He would come around often, and I would tell people he was my "cousin" so that no one would question why we were always with each other and so close. It wasn't until after undergrad and I'd moved to Kansas to start my career that I finally decided to come out. I was 23 years old at the time, but still just as terrified of telling my parents and friends. I still remember telling my mom to this day. The way she looked at me, the words she screamed about me going to hell, ranting about how I should have told her when I was younger so they could have gotten me help — so many things that will never leave my memory.
It's my greatest hope that no one ever has to feel the way I did and not be able to be their true self or live in fear of being disowned or bullied. It is tragic to see what some states are doing currently to target people — especially kids — because it represents a lack of acceptance and understanding of diversity and individuality. These actions can lead to the marginalization and discrimination of people who identify as LGBTQ+ and limit their freedom to express themselves and live authentically. It can also create a hostile environment for those who do not conform to traditional gender norms and can have negative impacts on their mental health and well-being. Denying access to education about LGBTQ+ identities and experiences can contribute to a lack of understanding and empathy towards these communities, leading to further stigmatization and discrimination.
So what can you and your law firm do to support the LGBTQ+ community?
We all have an important role in advocating for the rights and inclusion of the LGBTQ+ community within legal. Below are important strides that I encourage organizations and others to join in the legal community:
Protect the rights of transgender individuals by advocating for and enforcing laws that prohibit discrimination based on gender identity. This includes opposing laws that target transgender individuals, such as bathroom bills or restrictions on access to medical care.
Increase representation and diversity within the legal profession, including within leadership positions. This means promoting and supporting LGBTQ+ individuals in their careers and creating a welcoming and inclusive workplace culture.
Provide education and training for lawyers and legal professionals on issues related to LGBTQ+ rights and inclusion. This includes understanding the unique challenges that those individuals may face in legal settings and working to address them.
Support LGBTQ+ organizations and initiatives, such as pro bono legal services for LGBTQ+ individuals, advocacy groups and LGBTQ+ employee resource groups.
The most important thing that law firms can do during Pride month is to show their support and commitment to creating an inclusive and welcoming workplace for all employees, regardless of their sexual orientation or gender identity. Below are a few things that firms can do to show their support:
Fly the Pride flag outside your office building to show your support for the LGBTQ+ community. If the law firm is operating remotely, you can add the Pride flag to your email signature or website.
Participate in Pride events. Many cities have Pride parades or events during the month of June. Law firms can participate in these events by having employees march in the parade, sponsor a float, sponsor the parade or events, or host a booth.
Make donations to organizations that support LGBTQ+ rights and issues. This can be done publicly or privately, depending on the firm's preference.
Organize diversity and inclusion training sessions for your employees to promote understanding and respect for LGBTQ+ issues.
Launch a pro bono project that supports LGBTQ+ rights and issues, such as offering legal services to LGBTQ+ refugees or assisting with name and gender marker changes.
Use your social media channels to share information about Pride month, highlight LGBTQ+ employees and share resources for supporting the community.
Host a Pride-themed event, such as a happy hour or networking event, to celebrate the month and bring employees together.
There are several ways a law firm can show meaningful support and impact the fight against discriminatory legislation that we are all witnessing in 2023:
Offer pro bono legal services to organizations that fight for LGBTQ+ rights, such as Lambda Legal or the American Civil Liberties Union (ACLU). By providing free legal services, law firms can help these organizations challenge discriminatory laws and policies.
Work with local LGBTQ+ advocacy groups to lobby for changes in legislation that protect the rights of LGBTQ+ individuals. This can include drafting proposed legislation, meeting with lawmakers to advocate for specific bills and testifying in legislative hearings.
Issue statements condemning discriminatory policies, such as those that seek to eliminate drag shows or restrict the use of pronouns. These statements can be shared on the firm's website, social media accounts and in press releases.
Offer training and education to clients and employees on LGBTQ+ issues, including pronoun usage, discrimination, bullying and harassment. This can help to create a more inclusive workplace and support LGBTQ+ individuals.
Support employee resource groups (ERGs) for LGBTQ+ individuals, providing resources and funding for these groups to hold events and advocate for LGBTQ+ rights within the firm and in the community.
There are several folks that we should all help show support for who are active today in promoting LGBTQ+ rights and using their platform/influence to promote acceptance and equality:
RuPaul — a drag queen, actor, and singer, he has been a prominent figure in the LGBTQ+ community for decades.
Ellen DeGeneres — a comedian, actress, and talk show host, she came out as a lesbian on her television show in 1997 becoming one of the first openly gay celebrities in Hollywood.
Pete Buttigieg — the former mayor of South Bend, Indiana, and current U.S. Secretary of Transportation. He is the first openly gay person to be confirmed as a Cabinet secretary in U.S. history.
Tammy Baldwin — the first openly gay person elected to the United States Senate and currently serving as a senator from Wisconsin.
Laverne Cox — an actress and LGBTQ+ advocate, she is best known for her role on the Netflix series "Orange is the New Black." She has been a prominent voice in the fight for transgender rights.
Billie Jean King — a former professional tennis player and LGBTQ+ activist, she is a trailblazer in the fight for LGBTQ+ rights and was one of the first prominent athletes to come out as gay.
Tim Cook — the Chief Executive Officer of Apple. He is one of the most prominent openly gay executives in the world.
Anderson Cooper — A journalist and television personality, he is one of the most well-known openly gay men in the world.
Rachel Maddow — A television host and political commentator, she is one of the most prominent openly gay women in the world.
Dan Levy — A writer, actor and producer, he is best known for his work on the television show Schitt's Creek.
Georgina Beyer — A former politician in New Zealand, she was the world's first openly transgender mayor and member of parliament.
Pride Month is important because it celebrates and recognizes the LGBTQ+ community's struggle for equal rights and acceptance. It is an opportunity to raise awareness about the ongoing challenges faced by LGBTQ+ individuals, including discrimination, violence and social stigma. By coming together during Pride Month, LGBTQ+ individuals and allies can show their support for each other and advocate for a more inclusive and equitable society. Pride Month also serves as a reminder of the progress made towards LGBTQ+ rights and the work that still needs to be done to achieve full equality.
The history of LGBTQ+ rights has been marked by moments of both triumph and tragedy, but through it all, the community has remained resilient in its pursuit of justice and acceptance. From Stonewall to present day, the LGBTQ+ rights movement has undergone significant changes and gained increasing recognition, but the fight for equality is far from over.
Laurence Winters
Chief Community Officer, SurePoint Technologies
Chair, ALA's Diversity, Equity, Inclusion and Accessibility Committee
Select Quarterly Observances
July





July is French-American Heritage Month, which honors and recognizes the significant contributions made to the United States by people of French descent.

July 1: Canada Day is a Canadian federal holiday that celebrates the 1867 enactment of the Constitution Act, which established the three former British colonies of Canada, Nova Scotia and New Brunswick as a united nation called Canada.




July 4: Independence Day, or Fourth of July, is a United States federal holiday that celebrates the adoption of the Declaration of Independence on July 4, 1776. The original 13 American colonies declared independence from Britain and established themselves as a new nation known as the United States of America.


July 11: World Population Day is an observance established in 1989 by the Governing Council of the United Nations Development Programme. The annual event is designed to raise awareness of global population issues.

July 18: Nelson Mandela International Day was launched on July 18, 2009, in recognition of Nelson Mandela's birthday via a unanimous decision of the U.N. General Assembly. It was inspired by a call Nelson Mandela made a year earlier for the next generation to take on the burden of leadership in addressing the world's social injustices: "It is in your hands now." It is more than a celebration of Mandela's life and legacy; it is a global movement to honor his life's work and to change the world for the better.


July 24: Pioneer Day

is observed by The Church of Jesus Christ of Latter-day Saints to commemorate the arrival in 1847 of the first Latter-day Saint pioneers in Salt Lake Valley.




July 26: National Disability Independence Day celebrates the anniversary of the 1990 signing of the Americans with Disabilities Act.

July 27-28: Ashura is an Islamic holiday commemorating the day Noah left the ark and the day Allah saved Moses and the Israelites from the Egyptians.




August




August is National Civility Month which was founded to help the world remember to treat others the way we wish to be treated ourselves — with kindness, empathy and respect.


August 17: Marcus Garvey Day celebrates the birthday of the Jamaican politician and activist who is revered by Rastafarians.




August 21: National Senior Citizens Day was proclaimed a holiday by President Ronald Reagan in 1988 as a time to raise awareness to the issues that affect senior citizens and their quality of life.


August 26: Women's Equality Day commemorates the August 26, 1920, certification of the 19th Amendment to the U.S. Constitution that gave women the right to vote.




August 30: Hungry Ghost Festival, or Zhongyuan Festival, is a Chinese holiday where street, market and temple ceremonies take place to honor dead ancestors and appease other spirits.


August 30: Raksha Bandhan is a Hindu holiday commemorating the loving kinship between a brother and sister. "Raksha" means "protection" in Hindi and symbolizes the longing a sister has to be protected by her brother. During the celebration, a sister ties a string around her brother's (or brother-figure's) wrist and asks him to protect her. The brother usually gives the sister a gift and agrees to protect her for life.

September





September is National Suicide Prevention Month. Mental health advocates — along with survivors and allies — unite to advocate and promote suicide prevention awareness.




September 4: Labor Day is observed annually on the first Monday of September to celebrate the American labor movement and its workers who fought for better wages, working conditions and workers' rights. Several states already celebrated Labor Day, but it officially became a federal holiday in 1894.

September 15 - October 15: Hispanic Heritage Month is observed from September 15 to October 15. This month corresponds with Mexican Independence Day, which is celebrated on September 16, and recognizes the revolution in 1810 that ended Spanish dictatorship.

September 15-17: From sundown to sundown, Rosh Hashanah, the Jewish New Year celebration, marks the creation of the world.


September 19: Ganesh Chaturthi a Hindu holiday lasting around 10 days, where the elephant-headed Hindu God is praised and given offerings.

September 22: Native Americans' Day is a federal holiday observed annually on the fourth Friday in September in the state of California and Nevada and on the second Monday in October in South Dakota and Oklahoma.

September 24-25: Yom Kippur is the holiest day on the Jewish calendar. From sundown to sundown, it's a day of atonement marked by fasting and ceremonial repentance.

September 26: European Day of Languages

is celebrated across Europe to promote

the importance of language learning and protecting linguistic heritage. It is important to recognize the rich linguistic diversity in Europe.

September 26-27: Eid Milad-un-Nabi is an Islamic holiday commemorating the birthday of the prophet Muhammad. During this celebration, from sundown to sundown, homes and mosques are decorated, large parades take place and those observing the holiday participate in charity events.