Legal Management Annual Print Issue
2023 Edition: Lessons in Leadership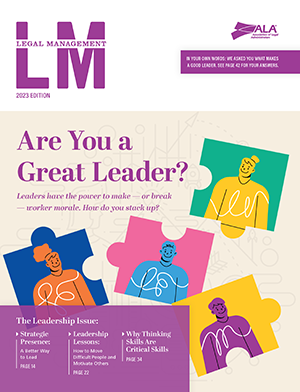 Legal Management's annual print edition is here. The issue is focused entirely on what makes a great leader:
ALA President Geoffrey M. Williams, CLM, MBA, MDiv, shares how composing music is similar to creating harmony within your leadership.

ALA Executive Director Eryn Carter, CAE, discusses how project management is a key component of successful leadership.

Why strategic presence makes for better leaders.
How to move difficult people and motivate others.
How to determine if you're a good leader.
Why thinking skills are critical skills for leaders.
Plus, we asked readers to share in their own words what they think makes a good leader and to describe the best piece of leadership advice they ever received.
The publication is automatically mailed to all members but you can also download a PDF. Prefer to listen? Check out our new audio playback option!
We'd like to thank the business partners who advertised this year. Our business partners are an integral part of ALA, and we appreciate their continued support!

---
From the Archives
Check out our past collections of the annual print issues.