Legal Management Magazine
Legal Management reports on topics within ALA's five knowledge areas: Legal Industry/Business Management; Human Resources Management; Financial Management; Communications and Organizational Management; and Operations Management.
March: On the Cover

Keeping on Track with Key Performance Indicators
Moving your firm forward wit KPIs can give you a better snapshot of your firm's overall health.
In the age of big data, firms must be serious about using data to fuel their growth and adapt to the ever-changing business landscape. One essential way to use data to drive decision-making is to establish key performance indicators, or KPIs. KPIs are a type of performance measurement that helps law firms evaluate how effectively the company is achieving key business objectives. Firms use KPIs at varying levels to measure performance and track statistical information that provides important insights into the current state of the firm and its processes, and to help make decisions about the direction in which it's headed. Read more.
Features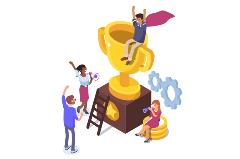 Effective Employee Engagement
According to Gallup's 2017 State of the American Workplace report, a mere 33 percent of U.S. employees revealed that they are engaged. In addition, only 21 percent of employees said they strongly agree that their performance is managed in a fashion that motivates them to do outstanding work. So if your firm employees are getting their work done, do you really need to focus on their level of motivation and engagement? The answer is a resounding yes. Read more.
Equipping Your Firm for the Opportunites of Blockchain
Is crypto a currency or a commodity? Either way, the debate's a potential gold rush for law firms — or at least, that's what partners hope as firms add blockchain to their practice areas, protecting client investments, managing their initial coin offerings, and more. Take for example Cogent Law Group, a Washington, D.C.-area firm that marketed blockchain more than any other practice area last year. Founding Partner Tom Goldstein believes there's money to be made, but only if the work is a match. Just as some firms are poorly suited to take on personal injury or patent filings or other particular areas of law, crypto and blockchain aren't for everyone either. So how do you know whether opening a new practice is the right move for your firm? From an HR and technical perspective, how can you tell you're ready? Read more.
Columns
Big Ideas
A Message from ALA's President April Campbell, JD: Thankfully, It Never Stops
BP Perspective
Creating a Culture of Innovation
Earn CE Credit
Members and nonmembers can read the article, then log in to take a test (members pay $49; nonmembers pay $69). If you pass with at least 70 percent, you will earn one CE credit hour. The goal is to help CLMs get the credits they need for recertification, but it will also count toward SHRM, HRCI or CPE credit.