2020 Compensation and Benefits Survey
ALA's 2020 Compensation and Benefits Survey Reports are available now. Compiled from the responses of nearly 900 law firms, the report features over 400 pages of salaries for 80 law firm positions and information on benefits like parental leave, dental insurance, tuition reimbursement, bonuses and more. The data is further broken down by region, state and metro area, making it even easier to compare your firm to its closest competitors.
Firms with 100 or more attorneys are encouraged to purchase the 2020 Large Firm Key Staff Survey Report, which contains data for director-level and C-suite positions in large law firms.
Purchasers of the surveys consider them a valuable tool in determining compensation for new and existing positions in their firms.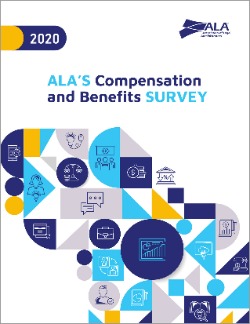 2020 Compensation and Benefits Survey
Order by credit card
Order by check
Member participant: $329
Member nonparticipant: $439
Nonmember participant: $609
Nonmember nonparticipant: $829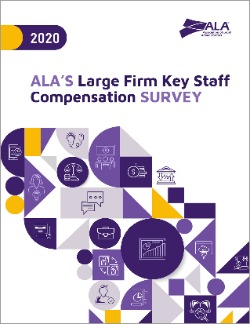 2020 Large Firm Key Staff Survey Bundle
Order by credit card
Order by check
Member participant: $549
Member nonparticipant: $659
Nonmember participant: $769
Nonmember nonparticipant: $989