Message from the Chair of the Diversity, Equity, Inclusion and Accessibility Committee
The legal industry, unfortunately, continues to struggle with diversity, equity, inclusion and accessibility (DEIA), standing as one of the least representative professions in the United States. Acknowledging this reality, ALA — through its DEIA Committee — is determined to effect positive change through education, advocacy and tangible actions. We aim to equip our members and legal industry stakeholders with the necessary tools and knowledge to dismantle barriers, cultivate inclusivity and create safe spaces for all individuals.

Our primary goal is to ensure that every member of ALA has a seat at the table and a voice that is not only heard but also validated. We are dedicated to providing unwavering support to our fellow members and our chapters as we collectively strive for transformative progress. Together, we will bring about meaningful changes that foster an environment where diversity thrives and inclusivity becomes the cornerstone of our legal community.
In the year ahead, we eagerly anticipate collaborating with each of you to embrace and advance DEIA within our Association and the legal industry at large. Let us always remember that despite our differences, we share far more similarities. This understanding will serve as our guiding principle as we navigate the path toward a more diverse and inclusive legal community.
As Barack Obama said: "Change will not come if we wait for some other person or some other time. We are the ones we've been waiting for. We are the change that we seek." Let us embrace these words as a testament to our unwavering commitment to progress, no matter the pace. Together, we will keep pushing forward, dismantling barriers and building a legal community that celebrates and embraces the strength found in our diversity.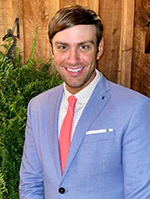 Laurence Winters
2023–2024, Chair, ALA Diversity, Equity, Inclusion and Accessibility Committee
SurePoint Technologies