Message from the Chair of the Diversity, Equity, Inclusion and Accessibility Committee
The ALA Diversity, Equity, Inclusion and Accessibility Committee (the Committee) serves as an inclusion and diversity resource for the advancement and expansion of underrepresented groups in the Association, legal practice environments and ALA constituent organizations. The Committee supports the organization's members and legal industry stakeholders by providing tools that assist with leading and increasing diversity and inclusion awareness in the Association, in the legal management community and in all legal service organizations.
It is our desire to provide guidance to the Association at large in achieving its overall inclusiveness and engagement goals by 1) facilitating processes to ensure events and programs are inclusive of diverse speakers and content, and 2) providing guidance and support to increase compositional diversity of ALA committees and leadership, while ensuring accessibility to all members. It is the Committee's hope that diversity and inclusion principles and initiatives become interwoven and engrained in every facet of ALA.
We know law firm leaders are challenged in leading the change in the area of diversity and inclusion. The legal industry remains one of the least diverse professions in the United States, but through difficult dialogue and education, it is our goal to help the legal management community comprehend the considerations and tactics required to incorporate diverse practices within law firm environments.
The overall mission of our committee is to help law firms and chapters be more inclusive. Until such time as our industry and our Association is reflective of our communities, we have a lot of work to do.
We look forward to engaging you in this important dialogue and working on next steps for initiating or improving upon your diversity and inclusion efforts.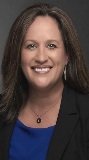 Ellen M. Rosenstiel
Chair, 2021-2022
Regional Administrative Manager, Kutak Rock LLP