Resources and networking for law firms of all sizes and practice areas
The Association of Legal Administrators has stood with the legal profession for over 50 years. We produce podcasts, white papers, webinars and online courses designed specifically for roles supporting law firm activities in five key areas:
Legal Industry/Business Management
Human Resources Management
Financial Management
Communications and Organizational Management
Operations Management
In addition, members can find answers about staffing, business and overall operations questions through one-on-one mentoring and access to a robust online community.

CLM Program
The Certified Legal Manager (CLM)® program lets individuals demonstrate their core abilities for running and staffing a legal organization. The CLM knowledge, skills and abilities (KSAs) are unique to the legal services.
Organizational Pricing Program
Offering your legal organization's staff ALA membership can be a recruitment and retention perk. Membership includes discounts to the ALA Job Bank, which is a great place to find pre-qualified candidates.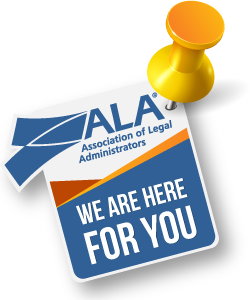 Legal Management Magazine
The current and past issues are available free in our archive
ALA Compensation & Benefits Survey
375 pages of national and local competitive information

ALA Legal Management Talk
Free podcast interviews focused on legal management issues
Featured Resource:
The Survival Guide to Implementing Effective Law Firm Management Strategies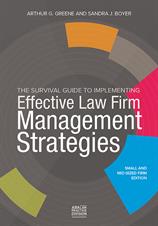 Get your copy in the bookstore today!
ALA Legal Management Talk
Legal Workflow Trends for Midsize Firms with Eric Wangler
Eric Wangler is President of the North American business unit for BigHand, a legal technology company specializing in products that maximize attorney and support staff efficiency in law firms. With more than 20 years of experience in the legal industry, Wangler previously served as Vice President of Ricoh's legal vertical segment.