Regardless of the stage in your career, certification adds a valuable dimension to your professional development.
ALA's Certified Legal Manager (CLM)® program provides the opportunity to demonstrate you have mastered the knowledge, skills, and abilities to operate at a high level of expertise in the field of legal management.
The 2019 Dates
Test Date: May 13, 2019
Application Deadline: March 13, 2019
Test Date: November 4, 2019
Application Deadline: September 4, 2019
Study Guide for the CLM Exam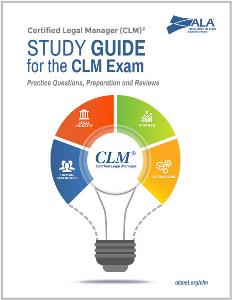 Congratulations to Our New CLMs
Please join us in congratulating our new CLMs on their outstanding achievement! Obtaining CLM certification shows great initiative and dedication to the profession, and demonstrates the mastery of a highly proficient legal administrator
| | | | |
| --- | --- | --- | --- |
| NAME | FIRM | CITY | STATE |
| Susan Armstrong, CLM | Bragalone Conroy PC | Dallas | TX |
| Christopher B. Holmes, CLM | Hackett Feinberg, PC | Boston | MA |
| Barbara Javorcic, CLM | Marshall Gerstein & Borun LLP | Chicago | IL |
| Olga S. Lee, CLM, SPHR | | | |
| Kim M. McMahon, CLM | Bove & Langa, PC | Boston | MA |
| Suzette Welling, CLM | Taylor & Assoc. | Winter Haven | FL |
Webinars for Application Credits
Listening to these ALA Webinars can help fulfill your CLM education requirements. ALA Members can purchase all ten for $599.
Cloud Computing 2.0: The Next Wave of Technology for Law Firms
Communicating with Impact - Women in the Workplace
Creating Proactive Leadership
Cyber Liability Insurance - What You Need to Know
Five Principles of Productive Email
Mindful Mentoring
Part 1: Mapping - the Essentials of a Powerful Process Improvement Tool
Part 2: Mapping - Expanding on the Essentials of a Powerful Process Improvement Tool
Speak Like a Leader: Communicating with Confidence and Clarity
Trimming the Fat
Demystifying CLM
While ALA's Certification Committee members have been hard at work writing exam items, they've also been working to demystify the certification process, writing on such topics as how exam items are written, scored and reviewed. We hope these articles are helpful to demystify your journey to obtaining CLM certification. For all CLM inquiries, please contact certification@alanet.org.