In-Person, Virtual and Hybrid Learning
ALA provides legal business professionals with the best industry education available. Programs serve your needs at any stage of your career, and deliver an environment for learning, networking, collaboration and sharing that will take you to the next level.
Legal Management Credentials
Demonstrates you have the expertise, knowledge and skills essential to the practice of legal management.
ALA provides continuing professional education credit for Certified Public Accountants (CPE), Human Resources Professionals (HRCI and SHRM), and Attorneys (CLE).
e-Learning

Watch, listen, and ask questions from your home or office.

Online, on-demand, convenient and economical.

Live or on-demand online courses.

Instructor-led online courses.

Timely, short and on-demand. Listen from work, home or in the car.
Discounts on books and resources to meet the needs of all areas of legal management.
American Law Firms in Transition: Trends, Threats and Strategies
By Randall Kiser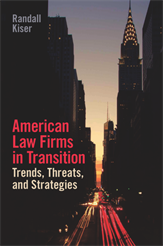 American Law Firms in Transition takes a sweeping, incisive view of law firms' uneven progress after the Great Recession and analyzes the five elements that will determine their success or failure in the next decade: culture, character, practices, systems and leaders. Studying every critical aspect of law firms from income trends to attorney attrition rates and from gender bias to leadership development, this book shows how law firms have struggled to adapt to rapidly changing conditions. Through its careful analysis of law firms' evolving role in the legal services industry, the book guides attorneys, law students, and law firm leaders in developing new, evidence-based perspectives, practices, and strategies.