WELCOME MANAGING PARTNER FORUM
2018 Compensation & Benefits Survey Reports are Now Available!
Use the code MPF2018 and you'll receive ALA member pricing ... a savings of over $100!
The Compensation and Benefits Survey is the most comprehensive report that ALA puts together annually. With data from nearly 1,000 law firms across the country, compensation data is reported for more than 60 different positions in the final reports. With more than 400 pages of information, this report is an essential tool for determining compensation and benefits for your firm's staff. Using the survey will allow you to learn about the following:
Differences in compensation between geographic regions and major metropolitan areas
Types of benefits becoming increasingly popular
Compensation for associate attorneys as they progress in experience
Standard billable hours goals for associates and paralegals And more!
Data is broken down using a variety of metrics including region, state, metro area, years of experience, education, and more.
Member participant: $299
Member nonparticipant: $399
Nonmember participant: $549
Nonmember nonparticipant: $759
(Includes the 2018 Compensation and Benefits Survey)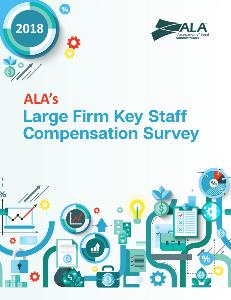 Member participant: $499
Member nonparticipant:$599
Nonmember participant:$699
Nonmember nonparticipant:$899
Use the code MPF2017 to receive ALA member pricing on that report.