Welcome from the Conference Chair
Greetings Colleagues and Friends!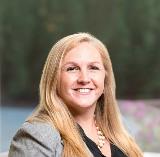 Automation. Compliance. Culture. Health. Talent. Training. These are some of our top challenges as Human Resources professionals today. We are ramping up for an incredible ALA 2017 Human Resources Conference to address these and other challenges, sharpen skills and knowledge, and join in partnership to confront the rapidly changing hot topics in the industry.
This year's HR Conference will be co-located with two other specialty conferences — the Finance and Law Practice Management Conference and Intellectual Property Conference — on October 5-7, 2017, at the Palmer House Chicago in Chicago, Illinois.
After participating in ALA's HR Conference, you will walk away with new, elevated ways to stay in front of the demands placed upon HR professionals in the legal environment. Most importantly, the value of the position you hold in your firm or organization will be enhanced. We will offer high-level, interactive educational sessions that examine workplace trends, explore a shared exhibit hall that will offer products and services relevant to the HR profession, and network with colleagues, experts and business partners.
Come join your peers for this collaborative two-day educational event. Registration opens in May. We hope to see you there!
Marcia Zigrang, CLM, SPHR, SHRM-SCP
ANGSTMAN JOHNSON, PLLC
ALA Human Resources Conference for Legal Professionals
Conference Planning Chair