2017 Human Resources Conference for Legal Professionals
October 5-7, 2017
Palmer House Hilton
Chicago, Illinois
ALA's Human Resources Conference for Legal Professionals will focus on the challenges facing HR professionals in private law firms, corporate and government legal departments, and nonprofit and legal aid agencies. The conference promises to deliver:
Interactive education featuring workshops and case studies
Examinations of workplace trends
High-level, relevant and thought-provoking ideas pertinent to legal administration
An expo featuring business partners that supply products and services to the legal profession
Unique networking events designed to engage attendees with speakers, business partners and industry peers
Join your HR specialist peers for this three-day business of law forum.
This conference is co-located with Intellectual Property Conference for Legal Professionals and Finance and Law Practice Management Conference for Legal Professionals.
---
Download t
he ALA Events App
Get the most out of your conference experience with the ALA Events app!
If you previously downloaded our 2016 Events app, the app will refresh itself to include the 2017 conferences. Simply go to the Settings menu and select "Exit to Conference List" to install the 2017 HR Conference app.
If you have any questions about the app, please contact [email protected].
---
ALA Community Service Event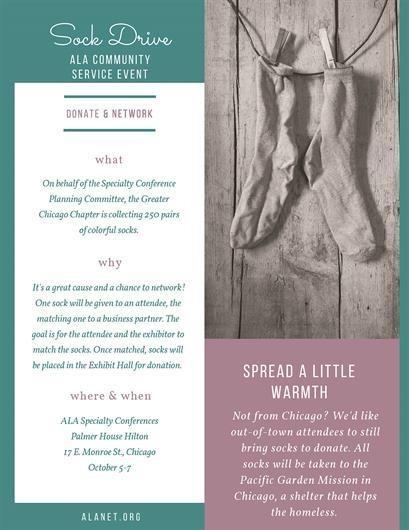 Donate and Network
what
The Greater Chicago Chapter is collecting 250 pairs of colorful socks. Chicago members can drop their socks off at the Palmer House Hilton by October 4.
why
One sock will be given to an attendee, the matching one to a business partner. The goal is for the attendee and the exhibitor to match the socks. Once matched, socks will be placed in the Exhibit Hall for donation.
where and when
ALA Specialty Conferences
Palmer House Hilton
17 E Monroe St, Chicago
October 5-7.
Spread a Little Warmth
Not from Chicago? We'd like out of town attendees to still bring socks to donate. All socks will be taken to the Pacific Garden Mission in Chicago, a shelter that helps the homeless.
"As HR leaders, it is our responsibility to understand and respond to the changing needs of our firms. The best way to do that is to continue to grow professionally through education and networking."
Laura R. Wickliff, Director of Human Resources, Snell & Wilmer L.L.P., Arizona Chapter, Member Since 2003
"Radical changes in terms of advanced technology, compliance requirements and the way in which legal services are delivered impact how HR professionals perform. It is imperative now more than ever for the HR professional to participate, collaborate and innovate to add value to the way our law firms and organizations operate."
Julie Logan, SPHR, SHRM-SCP, Director of Human Resources, Newmeyer Dillion, LLP, Orange County Chapter, Member Since 1998