The Association of Legal Administrators offers convenient, timely resources for finance professionals in legal management.
Finance Conference
Finance and Law Practice Management Conference for Legal Professionals
October 5-7, 2017
Chicago, IL
2015 Conference Playback
Session recordings now free to members
"Pricing for Profit with Project Management and Process Improvement"

Webinars
Past webinars are available on-demand
Legal Management Magazine
The current and past issues are available free in our archive
"The Road to Raising Revenue" - March 2016
Business of Law Online
6-week instructor-led online courses
, including a
Legal Management Finance Specialist Certificate
Featured Finance Resource
Winning Alternatives to the Billable Hour: Strategies That Work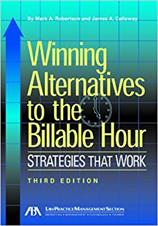 Get your copy in the e-Store now
ALA Legal Management Talk
Fast Forward: Driving Revenue Growth
Jill Weber and Sally Schmidt
Improving Top-Line Revenue for Your Law Firm

Jill Weber is Chief Marketing and Business Development Officer for Stinson Leonard Street, where she created Fast Forward®, a nationally recognized revenue program. Weber appears on the National Law Journal's "50 Business of Law Trailblazers & Pioneers" and was recognized as an "Unsung Legal Hero" by Minnesota Lawyer. She has received 22 local and national Legal Marketing Association (LMA) "Your Honor" awards. She currently serves on the LMA Board of Directors, and attended Harvard Law School's "Leadership in Law Firms" executive education program.
Sally Schmidt is President of Schmidt Marketing, Inc. in Edina, MN, which offers marketing services to law firms. She was a founder and the first President of the Legal Marketing Association (LMA). In 1994, she was inducted as a Fellow into the inaugural class of the College of Law Practice Management. Schmidt was also inducted into the LMA first Hall of Fame in 2007 and is the recipient of its Lifetime Achievement Award.