Welcome from the Conference Chair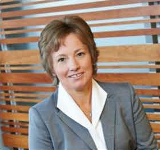 Greetings Colleagues and Friends,
What challenges does the future hold for the administration of IP firms and IP departments? How may trending and future changes affect the firm's operations, staffing, financial management, filings with the USPTO and other critical areas we manage day-to-day? On behalf of the 2018 ALA IP Conference Planning Committee, I invite you to attend this year's conference September 27–28, 2018 to assist in addressing these challenges. The conference is back in Washington, D.C., this year at the Capital Hilton.
Gather with colleagues from across the nation to share in interactive education sessions, engage with ALA business partners with services and products specific to the needs of the IP practice, and create and renew networks with fellow peers to address the challenges we face in an ever-changing market and be prepared for the Future of IP.
Whether you are a first-time or veteran attendee, you will find value in participating in this year's IP conference. We are excited regarding this year's lineup of education sessions and speakers focusing on the Future of IP. Our goal is to provide a wide variety of topics specific to the IP practice to assist you in the challenges you currently face and the challenges ahead. You will leave the conference energized with ideas and best practices to apply in your position to create a more profitable and productive work environment, reduce risk, assure compliance, keep up with the changes at the USPTO and meet the needs of the growing demand for IP staff.
Don't miss the 2018 ALA IP Conference. We look forward to seeing you there!
Susan Sutton
Planning Committee Chair
ALA IP Conference for Legal Professionals