Finance and Law Practice Management Conference for Legal Professionals
October 5-7, 2017
Palmer House Hilton
Chicago, Illinois
ALA's Finance and Law Practice Management Conference for Legal Professionals will specifically focus on issues and challenges facing those responsible for firm financials and profitability. This conference will offer financial educational sessions and expert speakers specifically focused on law firm financial management.
Supporting the educational sessions during this two-day event, will be the latest technologies, best practices and innovations from our business partners targeting the financial management aspects of the legal industry.
This conference is co-located with Human Resources Conference for Legal Professionals and Intellectual Property Conference for Legal Professionals.
---
Download t

he ALA Events App
Get the most out of your conference experience with the ALA Events app!
If you previously downloaded our 2016 Events app, the app will refresh itself to include the 2017 conferences. Simply go to the Settings menu and select "Exit to Conference List" to install the 2017 Finance Conference app.
If you have any questions about the app, please contact [email protected].
---
ALA Community Service Event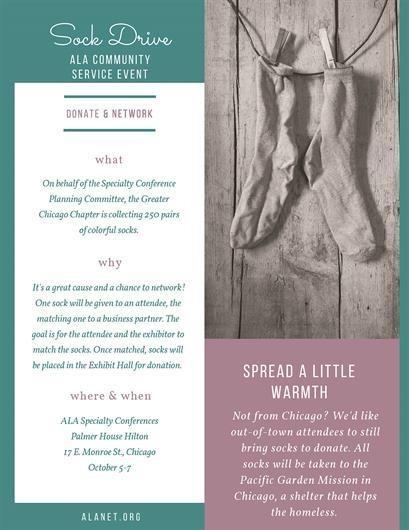 Donate and Network
what
The Greater Chicago Chapter is collecting 250 pairs of colorful socks. Chicago members can drop their socks off at the Palmer House Hilton by October 4.
why
One sock will be given to an attendee, the matching one to a business partner. The goal is for the attendee and the exhibitor to match the socks. Once matched, socks will be placed in the Exhibit Hall for donation.
where and when
ALA Specialty Conferences
Palmer House Hilton
17 E Monroe St, Chicago
October 5-7.
Spread a Little Warmth
Not from Chicago? We'd like out of town attendees to still bring socks to donate. All socks will be taken to the Pacific Garden Mission in Chicago, a shelter that helps the homeless.