Legal Management Magazine
Legal Management reports on topics within ALA's five knowledge areas: Legal Industry/Business Management; Human Resources Management; Financial Management; Communication and Organizational Management; and Operations Management.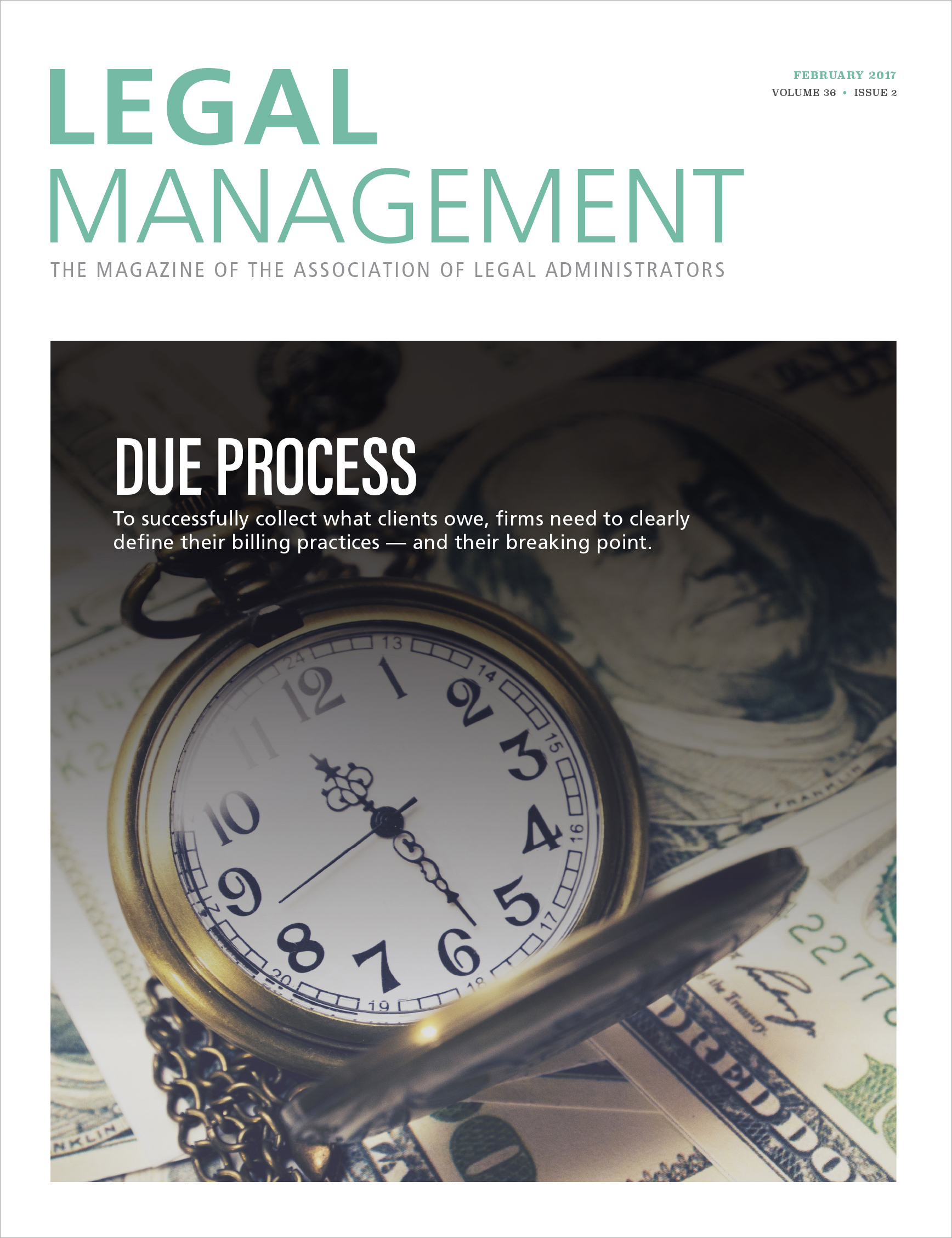 The Billable Hour's Grip on Legal
The 2008 economic downturn accelerated corporations' decisions to put a cap on legal spending — not only in terms of spending volume but also how many outside counsel they would ultimately engage. This forced general counsel as well as their law firms to take pricing seriously beyond just raising billable hour rates. Read more.
Columns
Big Ideas
A Message from ALA President Laura J. Broomell, CLM: Elevate Your Position — Grab That Seat at the Table

BP Perspective
10 Steps Every Law Firm Should Take to Protect Its Data and Create a Secure Environment
Innovations
What the Doctor Ordered: Procedure-Based Pricing for Law Firms
Insure Your Success
Professional Liability Limits: Avoid the Nightmare Scenario When Buying Sleep Insurance
Test Drive
Gadget Reviews with Bill and Phil: Tech for the Year Ahead
Departments

Facts & Stats
Legal Management Updates
Industry News
Opportunities for Paralegals and Consumers: The Limited License Legal Technician
Tips & Trends
Understanding Credit Card Processing Can Help Maximize Your Firm's Profitability
CE Course

Members and nonmembers can read the article, then log in to take a test (members pay $49; nonmembers pay $69). If you pass with at least 70 percent, you will earn one CE credit hour. The goal is to help CLMs get the credits they need for recertification, but it will also count toward SHRM, HRCI or CPE credit. Click here to read the current course, "The Ever-Evolving World of Legal Ethics," by Steve Wingert, CLM.