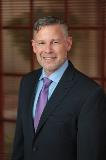 ORLANDO, FL –
Lowndes, Drosdick, Doster, Kantor & Reed, P.A.
, is pleased to welcome
Steven D. Wingert
to the firm as Chief Operating Officer. Wingert will replace Terry Navin, who has returned to his hometown of Milwaukee to be closer to his growing family, after seven years of serving as the firm's COO. Wingert will lead the firm's operating businesses units and continue to help drive law firm performance. He will report to the firm's CEO and Managing Partner
William T. Dymond
.
"We are pleased to welcome Steve to our Senior Executive Team," said the firm's CEO and Managing Partner, William T. Dymond. "His business acumen, management skills, leadership ability and overall professionalism, align with our core values and will be of great benefit to the firm and the clients we serve."
Wingert has worked with staff and attorneys in regional and national law firms, with direct responsibility for Human Resources, Finance, Facilities, Information Technology, and Marketing, and he has developed tactics that promote attorneys, staff and firms to perform at their absolute best. He has more than 22 years of legal industry experience, and was the past national president of the Association of Legal Administrators. He holds a Six Sigma Yellow Belt certification, and is an Association of Legal Administrators Certified Legal Manager. He holds a bachelor's degree in psychology from Creighton University, a master's degree in human resource management from Truman State University, an M.B.A. in management and decision science from Our Lady of Lake University. He is currently working on an EdD in interdisciplinary leadership from Creighton University.
Founded in Orlando, Florida in 1969, Lowndes, Drosdick, Doster, Kantor & Reed, P.A. is a multi-discipline business law firm. It represents corporate, entrepreneurial and individual clients across a myriad of industries locally, nationally and beyond our borders, from offices in Orlando, Mount Dora and Melbourne, and through Meritas, an established global alliance of independent law firms offering local insight, local rates and world-class client service. Local Roots. Broad Reach.
SM
www.lowndes-law.com
.
###
View All News