2019 Association Leadership Institute
ALA 20/20 — Envisioning the Association We Want to See and Be
"The best way to predict the future is to create it." — Peter Drucker
Welcome to ALA's 2019 Association Leadership Institute, and thank you for your time, energy and effort as a volunteer leader in our Association! As a member-led and member-focused association, your service, leadership, ideas and passion for ALA are what make us a truly great organization and an essential element for successful legal management professionals.
ALI is where we bring our Association leaders together to share and benefit from one another's strengths, experiences and relationships. It's also an opportunity for us to work together to create new solutions by thinking differently and imagining the Association we want to be going forward.
Everything ALA does is centered around empowering our members to lead the business of law. With that as our guide, we'll use our time at ALI to focus conversations and actions on the next phase of our Strategic Plan for 2020 and beyond. We'll sharpen our presentation and presence skills and create new solutions through design thinking. Additionally, we'll explore the proposed bylaw amendment and how it will expand our ability to provide services and add value that members can access and apply as legal management professionals. ALI will also be a time to build relationships, collaborate and leverage the power of people — and perhaps most importantly, have fun in the process!
We hope you enjoy what we have planned for you and the time we spend together! I look forward to connecting and collaborating with you. I consider it a privilege to engage in work worth doing with you as leaders of ALA.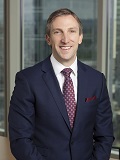 James L. Cornell, III
President-Elect