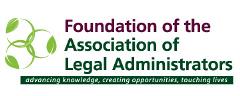 Silent Auction 2017
The Foundation of the Association of Legal Administrators is the charitable, educational and research affiliate of ALA.
A popular feature at ALA's Annual Conference & Expo is the Silent Auction, the major fundraiser for the Foundation of the Association of Legal Administrators. The Foundation's mission and goals historically focused on the development of education programs, research on the changing legal workplace and increasing awareness of the value of legal management professionals. The Trustees voted in 2017 to sharpen the Foundation's focus to three areas:
Susan French Emerging Leadership Scholarships for Chapter Leadership Institute attendance;
Sponsorship and selection of the Brezina Session speaker at the annual ALA Conference; and
Fostering and promoting active engagement by ALA members in providing pro bono administrative services, resources and training to legal services organizations.
The Foundation is an IRS§ 501(c)(3) tax-exempt organization, and individual contributions are fully deductible for federal individual income tax purposes. Donations are no longer being accepted.
The Silent Auction is a fun activity and popular items have included gift baskets, artwork and vacation packages put together by chapters in popular tourist destinations. Bidding will open on Sunday, April 2 at 11 a.m. MT and close on Wednesday, April 5 at 11:45 a.m. MT. All bidding will be done through the Silent Auction website, which is accessible on the ALA Events app.
Questions may be directed to [email protected] or 847-267-1361.