Welcome from the Conference Chair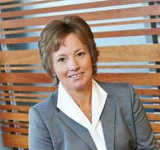 Greetings Colleagues and Friends,
You are not alone in the challenges you face in your role in the administration of an intellectual property law practice. On behalf of the 2017 ALA IP Conference Planning Committee, I invite you to attend this year's conference October 5–6, 2017 to assist in addressing these challenges. This year's conference will be co-located with the Finance and Law Practice Management Conference and the Human Resources Conference at the Palmer House Hilton in Chicago, Illinois.
Gather with colleagues from across the nation and Canada to share in interactive education sessions, engage with ALA business partners regarding services and products specific to the needs of the IP practice, and create and renew networks with fellow peers to address the challenges we face.
Whether you are a first-time or veteran attendee, you will find value in participating in this year's IP conference. We are excited regarding this year's lineup of education sessions and speakers. Our goal is to provide a wide variety of topics specific to the IP practice area to assist you in the challenges you face day to day and to promote best practices.
Back by popular demand is a second Idea Exchange session to allow additional time with colleagues to address specific questions that may not have been addressed in the education sessions or the first Idea Exchange. You will leave the conference energized with ideas and best practices to apply in your position to increase efficiencies, reduce risk, assure compliance, enhance client service, facilitate problem solving and promote support among those within your office.
Don't miss the 2017 ALA IP Conference. We look forward to seeing you there!
Susan Sutton
ALA IP Conference for Legal Professionals
Planning Committee Chair