Networking at the LFA Retreat
Networking is a critical component of the LFA Retreat experience, and ALA provides plenty of opportunities to interact with your large-firm peers. Each meal and break is a time for you to ask business questions of colleagues and sponsors, as well as meet new people with their own experiences to share.
Thursday, August 3
The Welcome Reception and Dinner this evening will be located off the hotel lobby in Sauciety, a sleek, sophisticated venue that will allow the group to visit, reacquaint with peers and meet our business partners.
Friday, August 4
Dinner this evening will be aboard the newly renovated Boston Elite, a premier exclusive private yacht, on Boston Harbor. Enjoy climate-controlled dining decks surrounded by windows to enjoy the amazing views. Several open-air outer decks will ensure you will truly get the Boston experience while enjoying onboard dining and impeccable service.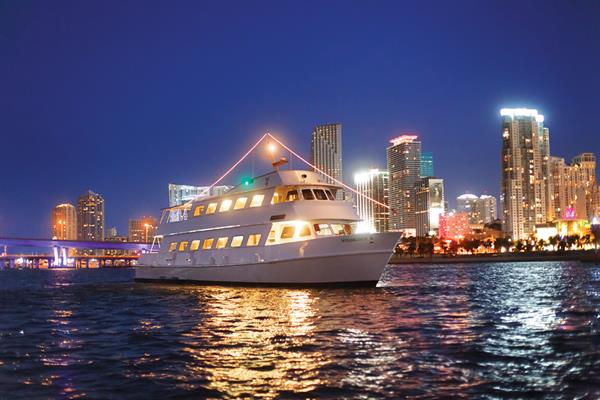 The Boston Elite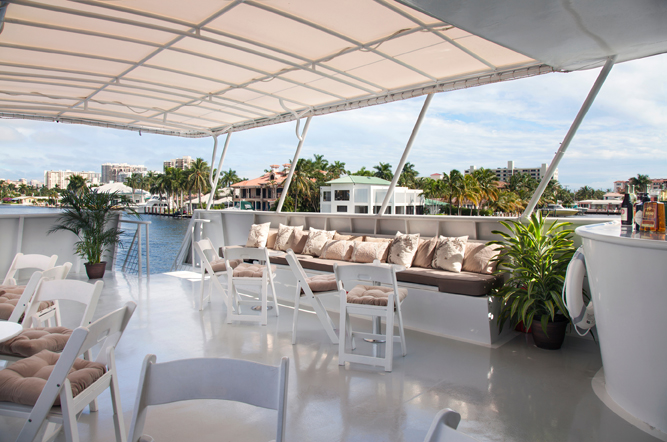 Boston Elite Upper Deck
Optional Activities
Golf Outing to Red Tail Golf Course
Thursday, August 3, 11 a.m.–6 p.m.
Rated one of the top 50 Golf Courses in the United States, this course is named after the majestic red-tailed hawks that soar serenely overhead. The par 72 course is crafted from a site of great natural beauty, flowing over rolling wooded hills and meandering among numerous streams and ponds. The terrain varies from classic New England landscapes of maples, birches, oaks and pines to tall grasses and sands reminiscent of coastal courses. The golf course architect, Brian Silva, dedicated a high level of personal involvement to the course and has designed it to work with the site's beautiful features. Red Tail demonstrates spectacularly that environmentally responsible practices can be harmonious with striking beauty and delightful playability.
The motorcoach will depart the hotel at 11 a.m. with a planned arrival at the course by noon. You'll enjoy a boxed lunch on the bus. Upon arrival, all clubs will be loaded onto golf carts by the valet, your foursome will have time to get together and hit some practice range balls, and the shotgun will start at 1 p.m. with an estimated end time of 4:30 p.m. Once everyone finishes up and prizes are awarded, we'll get back onto the motorcoach for a return to the hotel by 6 p.m.
$150 per person includes motorcoach to and from the course, greens fees, range balls, valet bag services, golf cart per foursome, and tax. Club rental is an additional $42.40, tax included. Please note the Red Tail Golf Course does not rent golf shoes. Please bring your own golf shoes or wear sneakers.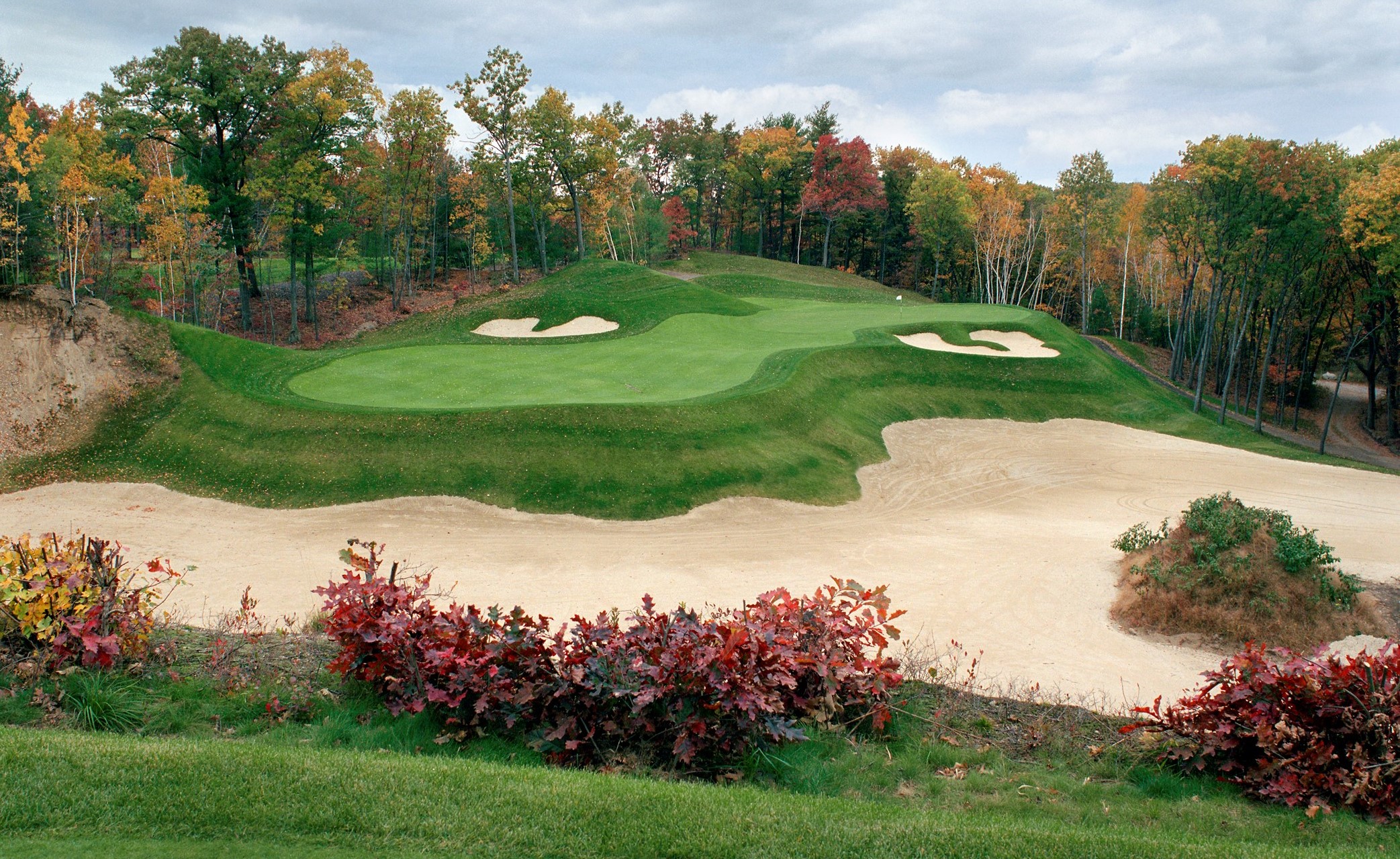 Red Tail Golf Course
Boston Revealed Tour
Thursday, August 3, 3–5 p.m.
* Moderate activity level; comfortable walking shoes recommended
Referred to as the "Athens of America" and known universally for its role in the shaping of America, Boston represents a colonial cornucopia of sights, sounds and historical significance in its contributions to our nation. You will travel through Copley Square and the Back Bay, home of the Boston Public Library and Trinity Church. Atop Beacon Hill, disembark for a stroll with an enchanting view of the Boston Common and Public Garden, offering a verdant and graceful respite from the pace of the city, as well as the State House and the 54th Regiment Memorial. You will be guided past Kings Chapel and the Old Granary Burying Grounds, the final resting place for several original Patriots. View the Old South Meeting House where planning for the Tea Party took place, and the Old State House where the Declaration of Independence was recited to Boston residents.
$57 per person includes the exclusive two-hour excursion, motorcoach transportation, a professional guide, taxes and gratuities.

Photo: GBCVB
On the Trail through Cambridge Tour
Saturday, August 5, 1–4 p.m.
* Moderate activity level; comfortable walking shoes recommended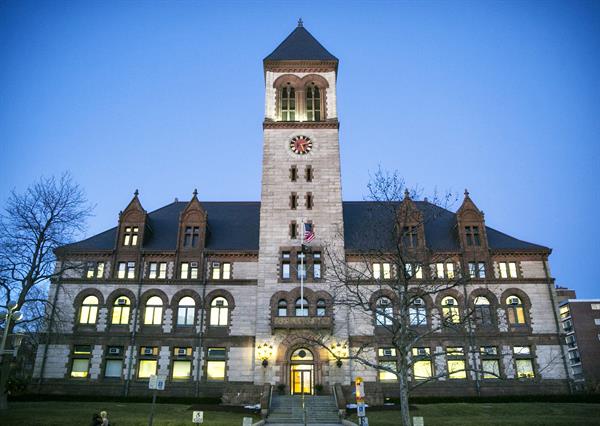 Photo: Kyle Klein
Head to Harvard Square, where your guide will accompany you through the historical back roads of Cambridge. Take a walk down Tory Row past George Washington's former home, the Old Blacksmith's Shop, and Henry Wadsworth Longfellow's former home. Next up your guide will take you on a stroll to the Harvard University campus, one of the greatest academic and research facilities in the world. Your group will be lead through Civil War Memorial Hall, Sander's Theater, and various other points of interest.
The tour includes a 30-minute Charles River sightseeing cruise. Your group will enjoy views of Beacon Hill, Esplanade Park, the Back Bay, and MIT.
$76 per person includes the exclusive three-hour excursion, motorcoach transportation, Charles River boat tour, a professional guide, taxes and gratuities.
Boston Red Sox at Fenway Park
Saturday, August 5, 5–10 p.m.
Historical Fenway Park was constructed in 1912 and rebuilt in 1934. This evening we'll take a motorcoach from the Westin Boston Waterfront hotel over to Fenway. We'll have dinner on the Left Field Deck, enjoying classic ballpark fare. Beer, wine and soft drinks will also be available. Following dinner, we'll head to our seats to enjoy the game that starts at 7:10 p.m. against the Chicago White Sox. Note: The ending time of 10 p.m. is an estimate and dependent on the time the game officially ends.
$99 per person includes motorcoach transfers to and from the game, dinner, and seats in the bleacher section of Fenway Park.