Legal Management Annual Print Issue
2018 Edition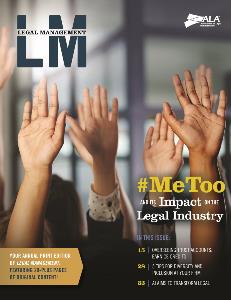 Legal Management's second annual print edition features 20-plus pages of all-new content! Besides a reprint of the continuing education course on trust accounting, it includes an original cover story on the impact of the #MeToo movement in law firms. The publication is automatically mailed to all members, and now you can download it and share it from this site.
Other topics include:
ALA President April Campbell, JD on elevating ALA
5 Steps to Increase Diversity and Inclusion in Your Organization
The "I" Word Almost All Law Firms Fear: Innovation
AI Aiming to Transform Legal
2017 Edition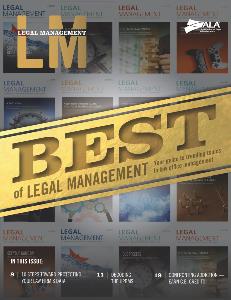 Legal Management's first annual print version featured some of our best content from the 2017 digital edition, including our CE course, "Confronting Addiction in the Law Firm." We also delved into the ALA Uniform Process Based Management System, or UPBMS.
Other topics include:
ALA's Immediate Past President Gary T. Swisher II, CLM, on the things you're missing out on in Legal Mangement's digital version.
What Kids Can Teach Lawyers About Diversity and Representation
10 Steps Every Law Firm Should Take to Protect Its Data