Legal Management Magazine
Legal Management reports on topics within ALA's five knowledge areas: Legal Industry/Business Management; Human Resources Management; Financial Management; Communications and Organizational Management; and Operations Management.
July/August: On the Cover

Corporate Social Responsibility Done Correctly
Firms looking to initiate or augment a corporate social responsibility program may face a multitude of options — and an unexpected outcome.
A number of firms have, for years, supported pro bono programs; 81 percent of attorneys say they've provided related services at some point in their career. Comprehensive corporate social responsibility (CSR) programs that encompass a variety of projects and causes are a newer concept for many firms. In recent years, though, more have incorporated issues that address community, environmental and other issues. These initiatives can vary from financially or physically helping a local charity to programs that have an international impact. Read article.
Features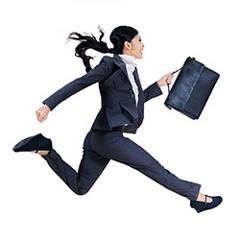 The Lateral Leap
Properly integrating lateral partners into your firm is critical to their — and your firm's — success.

Your law firm is on the lookout for new partners, and you've decided to do some lateral hires rather than promote internally. Integrating these lateral partners into your law firm takes time, money and extensive training, but the benefits of bringing talented members to your team — not to mention the valuable clients — pay off in the long run. Unfortunately, it can be difficult to effectively onboard these lateral partners. Read more.

Making Your DMS Migration (Relatively) Painless
Experts weigh-in with tips for a seamless transition.

Document management systems (DMS) are mission critical for firms. It's understandable why the thought of implementing a new system or upgrading your current one can make your heart palpitate. For all the questions, issues and pitfalls associated with DMS implementations, there is an equal abundance of best practices, proven tips, recommendations and success stories that will help your firm not only survive your current DMS install but hopefully make it thrive. Read more.

Earn CE Credit
Members and nonmembers can read the article, then log in to take a test (members pay $49; nonmembers pay $69). If you pass with at least 70 percent, you will earn one CE credit hour. The goal is to help CLMs get the credits they need for recertification, but it will also count toward SHRM, HRCI or CPE credit.
Click here

to read "How to Ethically Oversee Trust Accounts," and to earn one credit hour in financial management.

Click here

to read "Confronting Addiction in the Law Firm," and to earn one credit hour in substance abuse.

Click here

to read "The Ever Evolving World of Legal Ethics," and to earn one credit hour in ethics.