ALA is offering e-learning opportunities through an online learning management system (LMS). The content is delivered via text and graphics, animation, audio and video, quizzes, surveys and games. It presents the latest content on any topic set in a framework of self-directed/self-paced instruction.
e-Learning can help learners complete education and training objectives with greater ease and flexibility than they can with traditional classroom-based or web-based learning. When learning materials are online, users are able to access content from anywhere and at any time using desktop computers, laptops, mobile phones and tablets.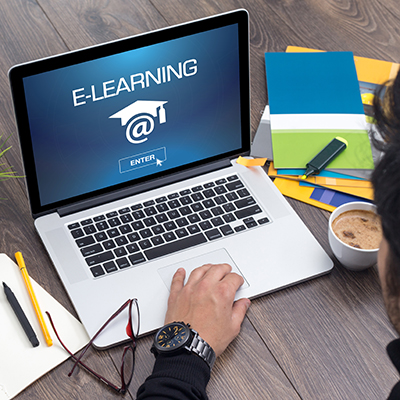 Law Firm Management Essentials (LFME) Courses
The Law Firm Management Essentials (LFME) series sets a foundation in the subjects necessary for legal administrators. These courses are intended for professionals who are new to legal management or specialists who are broadening their experience into new aspects of legal management. Take just one course to learn more about that topic or enroll in all five to set a firm foundation in Financial Management, Human Resources, Leadership, the Legal Industry and Operations Management.
Ready for all five courses? Register below to buy the complete package for $799 for members or $979 for nonmembers.
LFME: Operations Management
Register Now
Successful management is the bedrock of running a successful enterprise — and a huge task! This course will introduce, explain, and provide advice on nine key aspects of legal operations management. It includes advice and input from ALA member Lori Hughes, who is Lead Operations and Information Security Officer at her firm, to guide you with her real-world experience. Throughout the course, you will be encouraged to apply the content to your own legal management experience and current legal operations. Learners will explore, enhance and/or create technology management plans, business continuity plans and records management plans. Learners will also identify which of their facility services are outsourced and answer key questions about their lease. To cap it all off, you will practice goal setting as you learn techniques for project and time management. At the conclusion of this course, there is a short quiz and a final certificate of completion to mark your accomplishment.

Topics

Technology management
Business continuity
Facilities management
Leases
Records management
Time management
Project management, matter management and process improvement

Learning Objectives

Legal administrators rounding out their knowledge of Law Firm Management Essentials will identify whether their firm has adequate plans in place for operations management.
Learners will create or modify firm plans to account for changing technology and more scenarios.
Legal administrators will name sub-components of operations management: technology, business continuity, facilities, leases, records, marketing, time management and process improvement.

Audience Level

Basic-Intermediate

Registration

This e-learning course contains nine modules.

| | | |
| --- | --- | --- |
| | Member Pricing | Nonmember Pricing |
| Individual Course | $249 | $299 |
Register Now
LFME: Financial Management
Register Now
Law firms are home to unique financial and budgeting considerations. Examine the fundamental accounting and financial management concepts essential to the legal professional, including firm business concepts and terminology applicable to professional service firms; the fundamentals of law firm financial statements, cash management, trust accounts and client costs; management and profit center reporting; alternative business entities; ownership compensation models; alternative/appropriate fee arrangements; and legal process/legal project management.

Learning Objectives

Define the core concepts associated with accounting conventions and terminology.
Articulate financial statement information.
List the critical rules related to client trust account controls.
Analyze ways to improve revenue and control expenses in an effort to improve profitability.
Identify the advantages and disadvantages of your business entity ownership type.
Determine how to more effectively align value to price and how to adopt pricing options.
Implement legal project and process management improvements.

Audience Level

Basic-Intermediate

Registration

This e-learning course contains seven modules.

| | | |
| --- | --- | --- |
| | Member Pricing | Nonmember Pricing |
| Individual Course | $209 | $259 |
Register Now
LFME: Legal Industry
Register Now
As administrators and managers of the business of law, we must ensure that we have knowledge of current trends in the legal industry and learn how external factors affect us and our firms. Learning the importance of staying current on legal trends and using them in our firm's strategic plans will help us develop strategies to improve our law firm's performance and help make it into a "dynamic law firm."

The amount of data our firms create, review and store grows exponentially each year. How we manage and secure that data is paramount to staying competitive in the legal industry. When we have gained the knowledge that we need to better manage our firms, we must share it with our firms and our peers. We must also work to implement changes that will keep our firms dynamic and moving forward in our ever-changing industry.

Learning Objectives

Identify current law firm trends and determine their impact on your position or firm.
Learn how current legal trends can help your organization become more efficient, productive and competitive in today's global market.
Recognize the importance of legal trends in your firm's strategic planning for the future.
Identify the characteristic of a "dynamic law firm" and determine if our law firms are one.
Develop strategies to improve our law firm's performance to help make it dynamic.
Recognize the importance of managing the ever-increasing amount of data created and stored in law firms.
Define ways of protecting the firm's data and the data that is stored for the firm's clients and opposing parties.
Identify tools available to law firms that will assist in managing, protecting and organizing the firm's data.

Audience Level

Basic-Intermediate

Registration

This e-learning course contains five modules.

| | | |
| --- | --- | --- |
| | Member Pricing | Nonmember Pricing |
| Individual Course | $169 | $209 |
Register Now
LFME: Human Resources
Register Now
Managing human resources in a law firm is a complex and dynamic task. As administrators and managers of the business of law, we have to ensure we have the right people on the team, and that team is engaged and focused on delivering superior service to our clients. The skilled administrator must understand the goals of the firm, while navigating the legal landscape of local and federal laws as they apply to employment and benefits. From hiring to separation, administrators will walk away with the tools they need to make their firm successful and their attorneys and staff effective and engaged.

Learning Objectives

Recognize what federal and local laws apply to your firm.
Discuss relevant policies to have in each firm handbook.
Identify user performance management as a tool to deliver effective results to stakeholders.
Recognize the effect of strategic benefits for your firm.
Define how human resources strategy fits into the firm strategy.
Design your HR department from the ground up.

Audience Level

Basic-Intermediate

Registration

This e-learning course contains five modules.

| | | |
| --- | --- | --- |
| | Member Pricing | Nonmember Pricing |
| Individual Course | $169 | $209 |
Register Now
LFME: Leadership
Register Now
Legal management professionals are faced with leadership challenges every day. You manage up and down the reporting line — managing partners and executive committees on the up, staff on the down — in an industry that is being reshaped by economic pressures and technology. Though it is sometimes a difficult position to be in, it also means that you — and those around you — benefit when you improve your leadership skills. Research shows that skills most valuable in today's leaders include self-awareness, adaptability and collaboration.

Learning Objectives

Explain levels of leadership, management and ways you can work with others most effectively.
Recognize Goleman's leadership styles and emotional intelligence elements.
Apply knowledge of self to improve relationships and business outcomes in the law firm you manage.

Audience Level

Basic-Intermediate

Registration

This e-learning course contains two modules.

| | | |
| --- | --- | --- |
| | Member Pricing | Nonmember Pricing |
| Individual Course | $69 | $89 |
Register Now