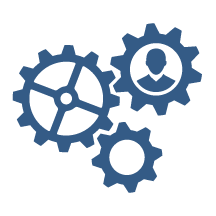 OM32 De-Mystifying Data Breaches and Information Security Compliance
James Harrison

Whether it's a hacked website, a lost laptop, or a stolen iPhone™, your daily business practices put you at risk. It is only a matter of time until a firm falls prey to the myriad of risks related to the abuse of information and theft of funds in your care: from a disgruntled employee to foreign hackers looking to exploit a weak link in the US financial system. There are practical strategies and solutions that you can implement at your firm to lessen the threat and mitigate the losses from these events. Join this panel of experts in law, tech and insurance to discover what you need to do to protect your firm. Learn how to prepare for common security breaches and estimate the potential costs of data breach and determine best practices and tips for better data security.
Recorded at the 2016 ALA Annual Conference, Los Angeles, California
Please log in to view video.
Objectives:
Identify real world data security threats specifically related to law firms
Discuss what vital steps you need to take to fortify your firm and establish a plan for breach response
Score your firm on information and data security and breach compliance