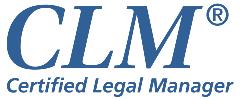 APPROVED PROVIDER RESOURCES
Please do not share this page with anyone outside of your chapter. You must be a CLM approved provider or applicant to view this page.
Outlines the policies and procedures of the approved provider program
2018 CLM Information and Application Packet
Refer to page 5, for a full review of the management categories for CLM Initial Certification credit.
Detailed explanations on how to analyze each session and program for CLM credit.
CLM APP Examples and Tricky Situations
Examples of sessions and scenarios that could be tricky to determine
Required for proper competency placement.
Four Steps to Apply CLM Credit
Flowchart on the CLM credit process