Diversity & Inclusion Scorecard for ALA Chapter Leaders
A Roadmap for Change
One of the essential skills of leadership is the ability to create an environment in which everyone who wants to succeed has the opportunity to do so. To realize your organization's diversity and inclusion goals and the Association's broader goal of creating a more diverse and inclusive profession, we have identified the following best practices for ALA Chapters. Through implementation of these best practices, ALA Chapter leaders can find and eliminate organizational barriers and hidden biases that may limit the opportunity for diverse individuals, attorneys and staff to succeed in the legal community.
The ALA Diversity and Inclusion Scorecard - Roadmap to Change will assist those chapters who have a diversity and inclusion program, and those interested in starting.
The ALA President's Award of Excellence considers use of the Diversity and Inclusion Scorecard a 'strongly recommended' action when evaluating your chapter for this annual assessment.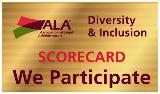 Chapters who utilize the Scorecard will earn the We Participate Scorecard Participation Seal to display on their websites, recognizing their commitment to advancing diversity and inclusion goals. For more information, or to request the Seal, contact diversity@alanet.org.
Review each best practice and identify those your chapter already does, as well as those that still can be pursued. Examples are provided, where available, for each best practice to show how it can be incorporated into a Chapter's operations.
Chapter Testimonials
Read these inspiring testimonials from chapters sharing how they've earned the WE PARTICIPATE Seal, and demonstrating their commitment to advancing diversity throughout the business of law. Then, email diversity@alanet.org to learn more about how you can take advantage of all the resources available from the Committee on Diversity and Inclusion.