Message from the Diversity and Inclusion Committee Chair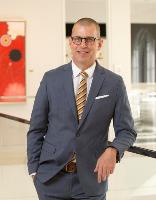 Michael G. Stephens, PHR, SHRM-CP
Director of Human Resources & Diversity
ALSTON & BIRD
Chair
The ALA Committee on Diversity & Inclusion (ALAD&I) aims to advance and expand diversity and inclusion (D&I) of underrepresented groups in the Association, legal practice environments, and ALA constituent organizations.
Diversity and inclusion has become a business imperative and it is critical for all of us in the ALA community to promote the benefits of building diverse organizations that reflect the changing face of the legal industry.
We will accomplish this by acting as champions for and providing thought leadership in diversity and inclusion, increasing awareness of and sensitivity to the desirability of differences within our workforce, providing high-level and focused diversity education at all ALA conferences and chapter programs, developing and providing a broad inventory of tools and resources, and by striving to achieve greater diversity within the Association.
By 2020, ALA strives to be the primary resource for all diversity practitioners within the business of law.

Our strategic plan covers three areas of focus:
1. Education
Provide current resources, articles, and videos through our social media platforms and Committee page on the ALA website;
Onsite Chapter and law firm presentations and programs; and
Recommend D&I speakers for National, Regional, and CLI Conferences.
2. Promoting Diversity & Inclusion
Promote awareness regarding D&I topics offered by ALA;
Provide CLM credits for participation at ALA D&I workshops and programs;
Encourage D&I volunteerism and community service; and
Recommend and encourage diversity on all ALA committees and leadership positions.
3. Achieving Diversity & Inclusion in ALA Chapters
Promote and assist Diversity & Inclusion Committees within each ALA Chapter;
Assist law firms with D&I polices and programing;
Build alliances with outside diversity organizations; and
Receive feedback from ALA members and chapters on D&I improvement.
For our Committee to succeed, we need the involvement of all ALA members and chapters that believe in diversity as a competitive advantage. We invite you to be part of this conversation.
If you have any questions or would like additional information on diversity, equity and inclusion at ALA, please feel free to contact me or any one of our committee members.
Michael G. Stephens
Director of Human Resources & Diversity
Alston & Bird LLP