​The ALA Diversity Toolkit provides an inspirational overview with tools to help advance diversity and inclusion in the legal workplace.
In 2015, the Association of Legal Administrators Committee on Diversity and Inclusion ("ALA CDI") embarked upon rewriting and updating its resource, the Diversity Toolkit ("Toolkit"). This decision was made in an effort to further ALA's goal to increase awareness of, and sensitivity to, diversity within ALA and the legal management community and in line with the mission of ALA CDI to educate legal industry leaders about why diversity is important and how we can work to bring diversity and inclusion to the legal workplace. It was clear to us that to be successful in an increasingly diverse world, leaders must be able to manage and leverage the differences that exist in their workforce, suppliers and clients. The Diversity Toolkit was written with the intent to provide a general overview of how to approach diversity and inclusion: not only as a starting point but with tools to dig deeper and as a source of inspiration to try a new approach.
In years prior to 2015, ALA CDI developed "Diversity & Inclusion, 60 Tips in 75 Minutes ("60 Tips"). This lecture and PowerPoint presentation is about why diversity and inclusion is important and how we can do a better job bringing diversity and inclusion to our lives and work places. This presentation is unique in that it is designed to be presented by any ALA CDI committee member at any one of the multiple ALA Chapters, offering valuable content and education at an affordable cost. There is no charge for the presentation; the only costs are the presenter's travel and lodging expense. This presentation has been given at over 45 ALA Chapters, nationwide. For more information, contact the committee at diversity@alanet.org.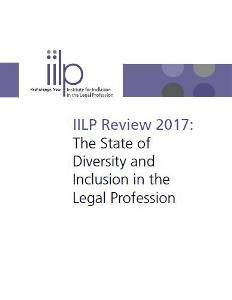 In order to demonstrate ALA thought leadership in the area of diversity and inclusion, the Toolkit paper was submitted to The Institute for Inclusion in the Legal Profession ("IILP") for publication in their periodic IILP Review. The Toolkit was accepted for publication in February of 2016. The committee also submitted "60 Tips" for consideration, which was also accepted for publication in the "Practice Round-Up" section of the IILP Review. (More information about the IILP can be found here: http://www.theiilp.com/.)
On Monday, May 8, 2017, the IILP released IILP Review 2017: The State of Diversity and Inclusion in the Legal Profession. This publication is a significant undertaking, with well over 300 pages devoted to the state of diversity and inclusion in the legal profession. The Association of Legal Administrators Diversity Toolkit can be found at page 39 of the IILP Review. ALA CDI's presentation, Diversity and Inclusion: 60 tips in 75 Minutes, can be found at page 312.
ALA is proud of the committee's significant work in this important area. We welcome your comments and suggestions at diversity@alanet.org.
Click here to view The Association of Legal Administrators Diversity Toolkit
IILP Review 2017: The State of Diversity and Inclusion in the Legal Profession