Silent Auction
A popular feature at ALA's Annual Conference & Expo is the Silent Auction, the major fundraiser for the Foundation of the Association of Legal Administrators. The Foundation's mission and goals focus on the development of education programs, research on the changing legal workplace and to increase awareness of the value of legal management professionals.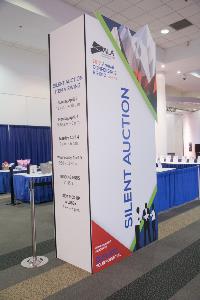 The Silent Auction's purpose is to create awareness about our mission while offering a fun activity during our Annual Conference. The auction is our main fundraiser for the three areas above and ALA Chapters, Members and Business Partners all donate items. Some of the past items have included gift baskets, artwork, high-end purses and jewelry, vacation packages, gift certificates to hotels and restaurants, sport event tickets, and occasionally exclusive items such as signed sports memorabilia, musical instruments and even a speaker. All bidding will be done through the Silent Auction website, which will be accessible on the ALA Events app.
New This Year!
We will be adding an electronic raffle to the Silent Auction. Tickets are $25 each or three for $50. Enter for your chance to win an airline voucher for two round-trip tickets anywhere in the Continental United States AND a three-night stay ― including breakfast for two ― at ANY Gaylord Resort & Convention Center. The package has a total value of $825 and the winner will be sent a W-2G form. The travel package expires May 2019.