Spirit of ALA Award Recipients
2021 Recipient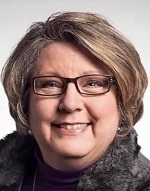 Paula K. Barnes
The Awards Program Project Team is privileged to posthumously recognize Past President Paula K. Barnes with the Spirit of ALA Award. Paula sadly passed away in January after an intense battle with acute myeloid leukemia, but members will remember her as we knew her: a mentor to many, an advocate of ALA and a dedicated volunteer. The Spirit of ALA Award is not an annual honor — it is only presented as warranted to a stellar individual whose commitment to professionalism, dedication to the advancement of the legal management profession and record of long-term service to the Association sets the standard for all who aspire to achievement, excellence and success.
Paula certainly exemplified those qualities. She joined ALA in November 2000 and didn't wait long to begin her extensive and incredible volunteer journey. She served ALA in myriad capacities at both the chapter and international level, and she was the recipient of the Region 2 Volunteer of the Year Award in 2008. As a member of the Middle Tennessee Chapter, she held the roles of Chapter Secretary, Vice President, President, Past President and Communication Officer.
Her service at the international level began around 2007, when she served as a judge for the ALA Awards Program. Two years later, she was appointed as a Regional Representative, and in 2010 she was elected to ALA's Board of Directors. Not only did Paula serve as ALA President from 2014 to 2015, but as part of those duties she was also involved in the activities of the International Relations Committee and served as Chair of the Association Nominating Committee.
Paula worked as the Regional Office Administrator at Dickinson Wright PLLC in Nashville, Tennessee. She was an avid sports fan — especially of hockey and her beloved Nashville Predators. During her presidency, she encouraged ALA members to be playmakers and pushed for everyone to move the Association and the industry forward. She was also an amazing and talented singer, as many can attest to when she sang the national anthem at ALA's 2015 Annual Conference & Expo in Nashville.
"What had been labeled as Paula's 'bossiness' by elementary school teachers became an asset in the workplace, now considered 'leadership.' Paula migrated naturally into law firm management," said her obituary. With ALA, "she loved traveling all over, meeting new people, mentoring and collaborating with her colleagues. She had found her calling."
---
Past Recipients
2019: Judith A. Hissong, CLM
2018: Kathryn Scourby
2016: Steven M. Morris, CLM, SPHR
2015: Steve Wingert, CLM and Karen Griggs
2013: Susan French
2012: Patti Groff
2011: John Kirk
2009: Dick Nigon
2007: Patti Lane
2006: Martha Llano
2005: Char Coulbert
2003: Judy Anderson
2002: Mike Palmer
2001: Chuck Stinnett
1999: Rachel Schaming
1998: Dave Brezina (founding recipient)