Intellectual Property Conference for Legal Professionals
October 5-6, 2017
Palmer House Hilton
Chicago, Illinois
ALA's Intellectual Property Conference for Legal Professionals is the only IP-focused forum for administrators working in a legal practice setting.
---
Download t

he ALA Events App
Get the most out of your conference experience with the ALA Events app!
If you previously downloaded our 2016 Events app, the app will refresh itself to include the 2017 conferences. Simply go to the Settings menu and select "Exit to Conference List" to install the 2017 IP Conference app.
If you have any questions about the app, please contact marketing@alanet.org.
ALA Community Service Event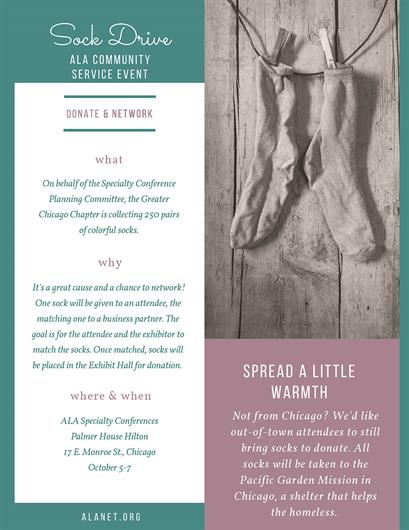 Donate and Network
what
The Greater Chicago Chapter is collecting 250 pairs of colorful socks. Chicago members can drop their socks off at the Palmer House Hilton by October 4.
why
One sock will be given to an attendee, the matching one to a business partner. The goal is for the attendee and the exhibitor to match the socks. Once matched, socks will be placed in the Exhibit Hall for donation.
where and when
ALA Specialty Conferences
Palmer House Hilton
17 E Monroe St, Chicago
October 5-7.
Spread a Little Warmth
Not from Chicago? We'd like out of town attendees to still bring socks to donate. All socks will be taken to the Pacific Garden Mission in Chicago, a shelter that helps the homeless.
Held over two days, the forum features:
Specialized solutions and education that address changes to the shifting IP landscape
Seasoned experts and industry leaders at the forefront of IP law
Opportunities to share ideas and explore trends in profitability, innovation, strategic and leadership
Unique networking opportunities with peers and business partners in this niche field
Continuing education credits
This conference is co-located with Human Resources Conference for Legal Professionals and Finance and Law Practice Management Conference for Legal Professionals.
"At my first ALA IP Conference I quickly realized the value of gathering with like-minded individuals who can discuss the same challenges, initiatives and best practices of our field. The ALA IP Conference provides me with an opportunity to learn from and share ideas about IP specific operations, policies and practice with Managers and Business Partners specializing in Intellectual Property."
Mary Munro, IP Operations Manager, Borden, Ladner, Gervais LLP, Ottawa Chapter, Member Since 2015

"The ALA Intellectual Property conference is by far the legal industry's best opportunity to hear, share and learn what others in the Intellectual Property community are experiencing. The open discussions with peers, sharing of ideas and problem solving are extremely unique to the Intellectual Property group. Whether you are new to the practice of Intellectual Property or a seasoned veteran you leave this conference enriched and rejuvenated."
Charly Doe, MBA, CLM, Executive Director, TraskBritt, PC, Utah Chapter, Member Since 1996